Logos and Graphic Identity
The "wordmark" (logo) is the most prominent expression of the Wiley brand. It is vitally important to use it correctly and consistently. These guidelines provide the ground rules for usage in a wide variety of applications. Choose the file format and download that file to your hard drive.
Wiley Wordmark Usage—DOs
EPS wordmark files may be scaled to any size necessary for applications, as long as the minimum size requirements are met. Always maintain the aspect ratio when scaling.
Minimum size refers to the smallest allowable wordmark size. The wordmark is available in one size that can be scaled down to a minimum size of 0.4 inch (10 mm) in width.
"Clearspace" should always be maintained around the wordmark. It defines the minimum distance to any other type or graphic element, as well as to the edge of a printed piece. The minimum clearspace is equal to the height of the "Y" in the wordmark.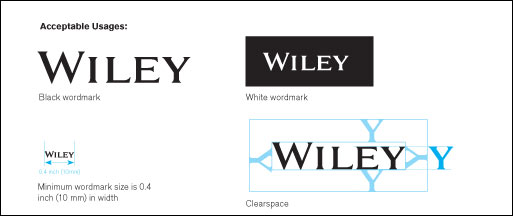 Wiley Wordmark Usage—DON'Ts
Wordmark artwork may not be re-created or altered in any way. There are two approved versions of the wordmark: black and white. Do not alter the wordmark or change its color.