For Dummies® Library Display Contests

Congratulations to the For Dummies 2011 Library Contest Winners!
In honor of the 20th anniversary of the For Dummies brand, Wiley hosted a very special version of our annual contest. We asked libraries around the country to create a For Dummies Facebook fan page and encourage their patrons to "like" the page. The contest generated a lot of enthusiasm among libraries and their communities, with over 40 libraries creating pages resulting in more than 16,000 fans. This year, we offered our biggest prize yet - a complete collection of every Dummies title in print!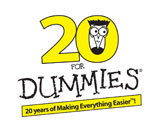 Our grand prize winner, and the recipient of more than 1,600 Dummies titles, is Gwinnett County Public Library with 5,002 fans. Our 2nd and 3rd place prizes go to Salem-South Lyon District Library with 3,803 and Bloomfield Public Library with 2,418 fans. We'd also like to recognize two honorable mention recipients, Lyon Township Public Library with 1,097 fans and Jervis Public Library with 1,006 fans.
You can visit the library facebook pages by following these links:
GRAND PRIZE:
Gwinnett County Public Library
in Lawrenceville, GA
1st Runner-up:
Salem-South Lyon District Library
in South Lyon, MI
2nd Runner-up:
Bloomfield Public Library
in Bloomfield, NJ
Honorable Mentions:
Lyon Township Public Library
in South Lyon, MI
Mid-York Library System
in Utica, NY
Thank you to everyone who entered!

Download your digital copy of the NEWEST For Dummies Catalog.