Nobel Prizes Awarded to Nine Wiley Authors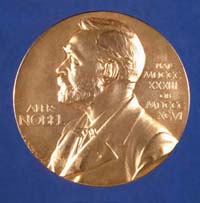 Nine of the Nobel laureates announced in October 2010 are Wiley authors, honored for their work in the fields of Physiology or Medicine, Physics, Chemistry, and Economics.
Professor Robert G. Edwards of the University of Cambridge, U.K., was awarded the Nobel Prize in Physiology or Medicine for the development of in vitro fertilization (IVF). His achievements have made it possible to treat infertility, which afflicts more than 10 percent of couples worldwide. His efforts resulted in the birth of the first "test-tube baby" in 1978; since then, some 4 million babies have been born following IVF. Professor Edwards co-authored a chapter of CIBA Foundation Symposium 17: Law and Ethics of A.I.D. and Embryo Transfer (1973) and has contributed to the Annals of the New York Academy of Sciences.
Professors Andre Geim and Konstantin Novoselov, both of the University of Manchester, U.K., were awarded the Nobel Prize in Physics for their groundbreaking experiments regarding the two-dimensional material graphene. Both laureates have written articles on graphene and other topics for the Wiley journals physica status solidi and Small; Professor Novoselov has also written for the journal Advanced Materials.
Sharing the Nobel Prize in Chemistry, for their palladium-catalyzed cross couplings in organic synthesis, are Professor Richard F. Heck of the University of Delaware in Newark, Delaware, U.S.; Professor Ei-ichi Negishi of Purdue University in West Lafayette, Indiana, U.S.; and Professor Akira Suzuki of Hokkaido University in Sapporo, Japan. Professor Negishi has edited three books(to which he also contributed articles) with Wiley, including the two-volume Handbook of Organopalladium Chemistry for Organic Synthesis; he has also contributed articles to the databases e-EROS (Encyclopedia of Reagents for Organic Synthesis) and Organic Syntheses, and to the journals Angewandte Chemie, Advanced Synthesis and Catalysis, European Journal of Organic Chemistry, Chemistry – A European Journal, and Heteroatom Chemistry. Professor Heck has written articles for the databases Organic Reactions and Organic Syntheses in addition to writing the foreword to The Mizoroki-Heck Reaction (edited by Martin Oestreich), a book exploring the importance of Professor Heck's carbon coupling reactions. Professor Suzuki has written papers for e-EROS and Organic Syntheses, as well as a chapter in Professor Negishi's book on organopalladium chemistry.
The Sveriges Riksbank Prize in Economic Sciences in Memory of Alfred Nobel was awarded to Professor Peter A. Diamond of the Massachusetts Institute of Technology, U.S.; Professor Dale T. Mortensen of Northwestern University, Evanston, Illinois, U.S.; and Professor Christopher A. Pissarides of the London School of Economics and Political Science, U.K., for their analysis of markets with search frictions, work that has contributed to the understanding of unemployment and its links to economic policy. Professor Pissarides is chairman of the editorial board for the journal Economica and on the editorial board of LABOUR, and he has contributed many papers to both journals. He is also the president-elect of the European Economic Association; the Journal of the European Economic Association will be published by Wiley-Blackwell beginning in January 2011. Professor Pissarides has also contributed papers to the journals Econometrica, Journal of Applied Econometrics, Oxford Bulletin of Economics and Statistics, International Economic Review, The Economic Journal, Economic Record, and Scottish Journal of Political Economy.
Professor Mortensen has contributed articles to the journals Econometrica, International Economic Review, and The Economic Journal. Professor Diamond has written for the journal Risk Management and Insurance Review.
Wiley has published the work of well over 400 Nobel laureates, including 129 laureates in Physiology or Medicine, 50 laureates in Physics, 150 laureates in Chemistry (out of a total of 159 winners), and 61 laureates in Economics (out of 67 winners).