Journal Developments: Very Rapid Publication, In-house Editorial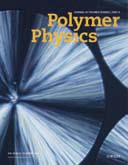 The redesigned Journal of Polymer Science, Part B: Polymer Physics

In journal publishing today, speed can outrank Impact Factor as a measure of where authors prefer to submit their best work. To accommodate the trend, a team of Wiley colleagues launched a pilot program in late 2008 to develop a Very Rapid Publication (VRP) system for a small group of titles. Working with Aptara as typesetting partner, they incorporated a custom-built version of Aptara's XML-based authoring tool PowerXEditor (PXE), which has a word processor-like interface that edits the XML under the hood, can generate galley proofs at the touch of a button, and accommodates proof corrections. The new system was launched for Advanced Materials on March 15, 2010, and has resulted in a 50 percent reduction of total post-acceptance publication time.
The journals Advanced Functional Materials, Journal of Pharmaceutical Sciences, and Small have since followed suit, with a few other titles to come. Having an XML base for content also brings us a step closer to offering versions of these publications for smartphones, iPads, and eBook readers.
In-house Editorial Comes to Hoboken
In traditional scholarly journal publishing, papers are selected for publication by an editorial board made up of established academics who also manage the peer review process, in which external referees check the validity of the papers' research. But it's not the only approach; in selected Wiley locations—most notably Weinheim—standard practice has been for Wiley colleagues to manage the editorial process, including peer review and commissioning of content. This editorial approach has been employed to great success for Wiley's two most used journals: Angewandte Chemie, the flagship journal of the German Chemical Society, and Advanced Materials. Some journals of other publishers, such as Nature, also use this system.
Both models have distinct advantages, but with the recent relaunch of the Journal of Polymer Science, Part B: Polymer Physics, the in-house model was chosen for the first time in Hoboken. "The field of polymer physics has developed beyond the original area of the journal's coverage," says Vicki Cleave, Managing Editor. "We can dedicate the additional resources necessary for the redevelopment of the journal with the editorial function in-house, where we can be closely aligned with the marketing managers and content management staff."
Focused on the job full time, in-house editors can also devote more time than their external counterparts to moving the peer review process along, which has resulted in a reduction of the average time from submission of a paper through peer review to 30 days, an improvement of at least 40 percent over the 2009 average. Similarly, an in-house editor attending a scientific conference can approach the commissioning of articles and the promotion of the journal more single-mindedly than an external editor, whose attention is understandably partly claimed by his or her role as a scientist.
The establishment of the approach in Hoboken provides a template for extension to other titles and locations. In a highly dynamic and competitive environment, we believe that expert in-house editorial teams, tasked with the growth and development of key titles, will help us serve authors and readers alike within our subject disciplines.