Most Jossey-Bass books are available in print and electronic formats, either ePub or ePDF. Click on the listings below to get more information, to see available formats, and to purchase.
Jossey-Bass Higher & Adult Education Journals & Newsletters
Jossey-Bass offers you the most up-to-date information for your field in our Higher & Adult Education journals, newsletters, and magazines. Available in a variety of formats and as individual or institutional subscriptions, they are the most convenient way to stay current in your field. Written and edited by the Jossey-Bass authors and editors you have grown to trust, you can be sure the content is rigorous, practical, and timely.
In addition, for your disciplinary needs, Wiley Online Library hosts the world's broadest and deepest multidisciplinary collection of online resources covering life, health and physical sciences, social science, and the humanities.
It delivers seamless integrated access to over 4 million articles from 1,500 journals, almost 10,000 online books, and hundreds of reference works, laboratory protocols, and databases. Featuring a clean and simple interface, this online service delivers intuitive navigation, enhanced discoverability, expanded functionalities, and a range of personalization and alerting options.

| | |
| --- | --- |
| | These quarterly journals are sold on a subscription basis or as individual issues, which you'll find incorporated into our book listings. Each issue is a completely self-contained, fully indexed, edited collection featuring contributions from some of the top minds in the field and filled with the latest research. The New Directions series allows us to cover more specialized topics in the in-depth manner they deserve. |

Jossey-Bass Higher & Adult Education Newsletters
| | |
| --- | --- |
| | These monthly newsletters feature up-to-date news on the latest legal developments and innovative practices for every aspect of campus administration and life. They are available in print, online, and as a PDF delivery. |


We are proud to welcome Women in Higher Education to our Jossey-Bass family. A monthly practitioner's news journal aimed at all women seeking to become more successful on campus, each issue provides strategies and news beneficial for all campus leaders. Having successfully served the higher education field for more than 20 years, Women in Higher Education recognizes that women have a unique and often times challenging world in academe. Its mission is to "enlighten, encourage, empower and enrage women on campus." Edited by Liana Silva-Ford. Subscribe now and take your career to the next level.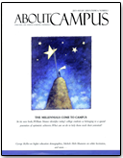 About Campus, published in partnership with ACPA–College Student Educators International, is dedicated to the idea that student learning is the responsibility of everyone on campus. Six times a year, About Campus offers an exciting and eclectic mix of articles and features—all designed to illuminate the critical issues faced by both student affairs and academic affairs staff as they work on the shared goal that brought them together in the first place: to help students learn. Subscribe today and share About Campus with your entire campus community.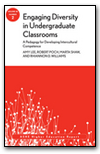 Since 1983, the ASHE Higher Education Report (formerly ASHE-ERIC) series has been published in cooperation with the Association for the Study of Higher Education (ASHE). Each monograph is the definitive analysis of a tough higher education problem, based on thorough research of pertinent literature and institutional experiences. Noted practitioners and scholars write the reports, with experts providing critical reviews of each manuscript before publication. Edited by Kelly Ward and Lisa Wolf-Wendel, each issue is also available individually and is listed with our books. Subscribe here.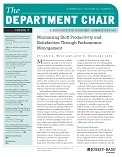 An integral part of Jossey-Bass's resources for department chairs, this award-winning periodical features in-depth articles that deliver sound insight and proven strategies essential for successfully leading an academic department. A unique resource for chairs, deans, academic vice presidents, and other administrators, The Department Chair delivers practical information in each quarterly issue. Written by practitioners from their own extensive experience, this newsletter is invaluable to anyone responsible for a department in any higher education institution. Edited by Carolyn Allard. Subscribe here.

National Teaching and Learning Forum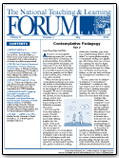 Jossey-Bass is proud to welcome The National Teaching and Learning Forum to our family of journals and newsletters! Founded in 1991, the newsletter has achieved critical acclaim and popular success. Published six times in the academic year, its topics embrace a wide diversity of cross-disciplinary concerns and its pages are open to a variety of faculty viewpoints, each of which offers the gift of insight to colleagues around the world. Edited by James Rhem. Subscribe here.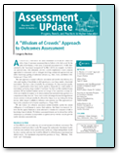 Assessment Update is dedicated to covering the latest developments in the rapidly evolving area of higher education assessment. Every other month, Assessment Update offers all academic leaders up-to-date information and practical advice on conducting assessments in a range of areas, including student learning and outcomes, faculty instruction, academic programs and curricula, student services, and overall institutional functioning. Edited by Trudy W. Banta. Subscribe here.

Published with the Professional and Organizational Development (POD) Network in Higher Education, To Improve the Academy: A Journal of Educational Development is an electronic peer-reviewed journal that recognizes and advances excellence in research and practice in educational development. Published twice a year, the journal endeavors to reflect the diverse community of faculty, staff, and administrators who contribute to the rigor and improvement of teaching and learning in higher education; shape the conversation and drive inquiry regarding the scholarship of educational development; and support innovation in scholarship, research, practice, and the discipline of educational development itself. Subscribe here.

Strategic Enrollment Management Quarterly
SEM Quarterly is published in partnership with the American Association of Collegiate Registrars and Admissions Officers (AACRAO) in order to explore the many aspects and broad potential of strategic enrollment management in higher education today. The quarterly takes a long, integrated view of the student lifecycle, while respecting the student as a learner, rather than a customer. From admissions through course selection, advisers, and choice of major to graduation and career, SEM offers practical ways to optimize student success among an increasingly diverse group of learners. Edited by Thomas C. Green. Subscribe here.

The FERPA Answer Book and Bulletin

Since 2009, FERPA and its regulations have been undergoing significant changes that affect how, when, and who has access to students' education records. The FERPA Answer Book and its bimonthly bulletin keep you up to date with how the courts are interpreting FERPA rights and the Department of Education is analyzing complains alleging FERPA violations. Virginia Tee, Esq., Editor. To subscribe, please call 888-378-2537.

New Horizons in Adult Education and Human Resource Development

New Horizons in Adult Education and Human Resource Development is the only journal that fully embraces both adult education and human resources as equal fields that complement each other. The journal publishes cutting-edge information and research on the latest thinking in the fields of adult education and human resource development (HRD) as well as diverse perspectives from scholars that stimulate cross-disciplinary dialogue and scholarship. It identifies and distinguishes the similarities of and differences between adult education and HRD; addresses practical and/or research problems across the spectrum of adult education and HRD; and helps readers understand the common ground and core values shared by adult education and HRD. Published electronically on a quarterly basis and edited by Tonette S. Rocco, Thomas G. Reio, Jr., and Douglas H. Smith. Subscribe here.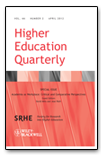 Higher Education Quarterly publishes articles concerned with policy, strategic management, and ideas in higher education. A substantial part of its contents is concerned with reporting research findings in ways that bring out their relevance to senior managers and policymakers at institutional and national levels, and to academics who are not necessarily specialists in the academic study of higher education. Higher Education Quarterly is based in the UK and particularly covers issues of international concern. Edited by Lee Harvey and Celia Whitchurch. Subscribe here.
Introducing Wiley Online Library