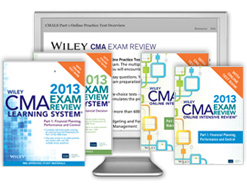 The most trusted name in CMA prep is now Wiley CMA
The Certified Management Accountant credential has been a hallmark of professionalism for management accountants globally since 1972. The two-part CMA Exam is a rigorous assessment for accounting and finance career professionals, showcasing to their peers and employers that CMA holders are experts in the finance of business.
IMA's bestselling CMA exam review program - both the full Learning System® and the quick-study Online Intensive Review® - are now published by Wiley. Wiley has been training financial professionals for decades, from the industry-leading Wiley CPA Exam Review to a long-running official relationship with the CFA Institute. And now Wiley's financial-training expertise and IMA's comprehensive management accounting knowledge have come together in Wiley CMA.
Why Become a CMA?

It's a fact: on average, CMAs earn $34,000 more in total annual compensation than their non- certified peers. Your career is in management accounting, so your certification should be as well - and the CMA is globally respected.

Why Pick Wiley CMA?

Wiley knows the financial professions - we've trained thousands of CPAs, CFAs, CIAs and others over the years. Your undergraduate accounting textbook was probably from Wiley, as well. There's no one better to prepare you for the exam that will accelerate your career more than our exam review.

Which Program Is Right For You?

Pick the study program that fits you: