Instructor materials created by
We are proud to present in collaboration with TED a curated series of talks plus specially commissioned educational support materials.
TED Studies: Government and Politics - Cyber-Influence & Power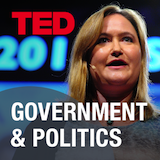 Teachers and students can use TED Studies: Government and Politics to enhance existing curricula in undergraduate education courses. Educators and students will find activities and multimedia resources which link the study of Islam to the real world, plus expanded academic content such as key terms, related journal articles and major debates in this highly topical area
For an abridged, interactive version of this content, subscribe to the TED Studies: Government and Politics course via the iTunesU course app for iPad by clicking here.


Introductory Essay
Patricia J. Campbell, Ph.D. is the Dean of Graduate Studies and Associate Vice-President at American Public University and Christy R. Stevens, M.A, M.A., MLIS, is the Information Literacy Coordinator at California State University Polytechnic, Pomona. They have co-authored the textbook An Introduction to Global Studies as well as collaborated on articles focusing on the intersection of information literacy and global citizenship in undergraduate education
Module 1
Technology and Globalization: Managing Systemic Risk
Watch the 2009 TEDTalk by Ian Goldin "Navigating our Global Future."
Ian Goldin, the director of Oxford's 21st Century School, delivers a brief and powerful TEDTalk about the ways in which globalization might serve the greater good.  Goldin makes the case that we must recognize the limitations of our current governance structures and find new ways of managing the planet.
To flip this video, visit TED-Ed.
Watch the 2009 Gordon Brown talk "Wiring a Web for Global Good."
"Foreign policy can never be the same again," declares the former British Prime Minister, Gordon Brown, as he reflects on the power of modern communications technology.  The Internet and other tools allow people to find common ground and organize around international issues like climate change, terrorism and poverty, expressing a global ethic that Brown believes is shared by individuals of all nations and faiths.
To flip this video, visit TED-Ed.
Watch the 2009 Gordon Brown talk "Global Ethic vs. National Interest."
In a conversation with TED's Chris Anderson, former UK Prime Minister Gordon Brown argues that patriotism and altruism do not have to be opposing forces.  Brown believes that collaboration between countries and global aid can be forms of enlightened self-interest, and that we need stronger international institutions to facilitate this.
To flip this video, visit TED-Ed.
For transcripts, downloads, and other video options visit TED.com.
Module 2
Revolutionary Technologies?
Watch the 2009 TEDTalk by Clay Shirky "How Social Media can make History."
The Internet has become a source for instant information and mass-coordinated activism, and as such, is a game-changer for politicians, governments, and anyone else in a position of power. NYU professor Clay Shirky dissects two examples from 2008: the Chinese government's "Great Firewall" failure after the earthquake in the Sichuan province, and the Obama campaign's use of social media to galvanize supporters.
To flip this video, visit TED-Ed.
Watch the 2009 TEDTalk by Wael Ghonim "Inside the Egyptian Revolution."
Google executive and Internet activist Wael Ghonim created a Facebook page paying tribute to Khaled Saeed, who was beaten to death by Egyptian security forces in 2010. Ghonim's Facebook page galvanized the growing discontent in Egypt, which ultimately resulted in the Arab Spring. In this TEDTalk Ghonim describes how activists there employed mobile technologies and social networks to create campaigns, submit footage, and undercut the dictatorship's propaganda.
To flip this video, visit TED-Ed.
Watch Wadah Khanfar's 2011 talk "A Historic moment in the Arab World."
The former Director General of Al Jazeera describes his organization's involvement in the popular uprisings in the Arab world. Khanfar tells how Tunisia's government banned Al Jazeera reporters from the country, but was ultimately unable to keep information from flowing to Al Jazeera from ordinary citizens – "people who are connected and who have ambition and who have liberated themselves from the feeling of inferiority."
To flip this video, visit TED-Ed.
For transcripts, downloads, and other video options visit TED.com.
Module 3
Controlling Technologies: Authoritarian Narratives and Strategies in Cyberspace
Watch the 2009 talk "How the Net Aids Dictatorships" by Evegeny Morozov.
Journalist Evgeny Morozov concedes that blogs and social networks have transformed political protest, but challenges the assumption that democracy inevitably follows. Morozov takes on what he calls "iPod liberalism" by describing how repressive regimes are using the tools of technology to strengthen their power.
To flip this video, visit TED-Ed.
Watch the 2011 TEDTalk by Maajid Nawaz, "A Global Culture to Fight Extremism."
British-born Maajid Nawaz understands terrorism, since he spent more than a decade in one extremist group before serving time in an Egyptian prison. Now the organizer of a counter-extremism movement working to promote democracy in Pakistan, Nawaz believes that the people who have been benefitting the most from digital activism are extremists, and he identifies four reasons why it's been difficult to use technology to advocate for democracy in Muslim-majority societies.
To flip this video, visit TED-Ed.
Watch Rebecca MacKinnon's 2011 talk "Let's take back the Internet."
Journalist and Global Voices co-founder Rebecca McKinnon argues that we need a "consent of the networked" to protect free speech and collective action online. McKinnon casts a critical eye on government regulation of the Internet in France, China, Tunisia and America, and she explores how the power of nation-states may actually be extended by private corporations that control how content gets distributed in cyberspace.
To flip this video, visit TED-Ed.
For transcripts, downloads, and other video options visit TED.com.
Module 4
Global Power Shifts
Watch the 2010 "Why the World needs WikiLeaks."
In this popular TEDTalk from 2010, WikiLeaks founder Julian Assange shares the goals of the controversial, volunteer-driven website and describes how it operates. Assange explains how WikiLeaks shifted a national election in Kenya, exposed the brutality of a U.S. airstrike in Baghdad, probed the activities of oil companies in Albania, and is taking freedom of speech and transparency to an unprecedented level.
To flip this video, visit TED-Ed.
Watch the 2010 "Global Power Shifts" by Joseph Nye.
Diplomat and Harvard academic Joseph Nye advises caution when considering current prognostications about the rise of China and the decline of the U.S. Nye offers three reasons why these predictions aren't very useful and advocates for a more multidimensional view of global power. In this TEDTalk, Nye shares the point of view that nations must make use of what he calls "soft power" to deal with problems outside the purview of single countries or regions.
To flip this video, visit TED-Ed.
Watch Shashi Tharoor's 2010 "Why Nations should Pursue 'Soft' Power."
Politician and writer Shashi Tharoor asks, "What constitutes a world leader?" and suggests that the very notion is "terribly archaic." Tharoor suggests that there are many ways to consider a country's significance, including the size of its population, economy, military and nuclear capacity. He then explores how "soft power" has enabled his native India to spread its political and cultural values and gain international influence.
To flip this video, visit TED-Ed.
For transcripts, downloads, and other video options visit TED.com.
Putting It Together: Summary Essay and Activities