Online Assessments » Employee Engagement » Overview
Overview
Assess And Improve Engagement And
Fulfillment On Every Level Of Your
Organization
It is a simple fact of business life that any job, from investment banker to dishwasher, can become unsatisfying, even miserable. Eliminate the primary causes of job misery, and you can boost job fulfillment and increase employee productivity . . . improve employee retention . . . and give the entire organization a powerful competitive advantage.
What does the Inventory measure?
According to Patrick Lencioni in his bestselling book The Three Signs of a Miserable Job, three underlying factors make a job miserable:
Anonymity

: The feeling that people get when they feel unknown or invisible at work

Irrelevance

: The impression that one's work has no real impact on the lives of others

Immeasurement

: The inability of an employee to assess his or her own level of contribution and success
180-degree Assessment
The EEMI 180 is an observer-based tool for the manager's direct reports. Participants will use the feedback from the 180-degree assessment to identify their strengths and weaknesses in terms of the Three Signs.


Items in the Assessment

: 36 (12 for each of the core Three Signs)
Time: 20 minutes
Preview the Assessment
Who is it for?
The 36-item Employee Engagement Management Inventory (EEMI) targets those individuals best suited to revitalize and revolutionize their workplaces: managers. It helps managers identify their susceptibility to the three primary causes of job misery and assess their weaknesses and their strengths.
"Don't let the simplicity of his message fool you. Lencioni provides powerful, practical real-world solutions for improving results by putting people first."
—Jeff Lamb, Senior Vice President Administration and Chief People Officer, Southwest Airlines
What does the EEMI measure?
About the Assessments
How this assessment was verified.
What you'll learn from the EEMI.
About the Author
Complete Product Collection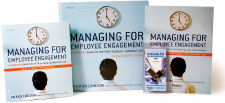 Managing for Employee Engagement Facilitator's Guide Set.


Learn More
Other Workplace Learning Solutions Tools