The Science Teacher's Book of Lists
ISBN: 978-0-13-793381-5
528 pages
February 1993, Jossey-Bass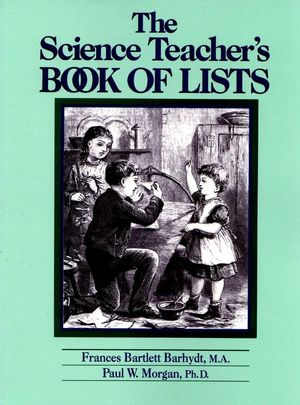 This unique information source and time-saver for science teachers includes 290 lists related to life, chemical, physical, meteorological, earth and space science for developing and planning lessons for elementary and secondary students.
See More
About This Resource.

Section 1: PLANTS.

Section 2: ANIMALS.

Section 3: HEALTH & NUTRITION.

Section 4: CHEMISTRY.

Section 5: PHYSICS.

Section 6: EARTH SCIENCE.

Section 7: METEROLOGY.

Section 8: AVIATION & SPACE SCIENCE.

Section 9: MEASUREMENTS & NUMBERS.

Section 10: SCIENTISTS & THEIR CONTRIBUTIONS.

Section 11: SCIENCE & SCIENCE EDUCATION RESOURCES.

Section 12: POTPOURRI.
See More
Frances Bartlett Barhydt has an M.A. in teaching. Her more than thirty years of teaching includes experience at the elementary, junior high, and university levels. She is currently a part-time faculty member of Lyndon State College and is Director of the Vermont Energy Education Program. She is coauthor with Dr. Elizabeth A. Wier of a number of teacher resource manuals, including BUZ: A Hands-on Energy Education Program. She is author of Science Discovery Activities Kit, published by The Center for applied Research in Education since 1989. Among her many teaching honors are the Order of the First State awarded in 1984 by the Governor of Delaware for excellence in science education; recognition in 1984 and 1985 by the National Science Teachers Association for excellence in science education for the state of Delaware; and election in 1990 to "Who's Who in American Education." Mrs. Barhydt continues to serve as a science fair judge and works as an elementary science education consultant.

Paul Morgan has a Ph.D. in organic chemistry and is a retired Senior Research Fellow of the Dupont Company, where he did research on new materials for synthetic fibers. He was associated with the origin and development of Nomexa and Kevlara aramid fibers and has forty U.S. patents and numerous foreign patents. He has written several articles on his research which have appeared in professional journals, including the Journal of Chemistry Education. He has received numerous awards fro his professional work, including DuPont's Lavoisier Medal in 1992 for Technical Achievement. He is a Life Fellow of the Franklin Institute, was elected to the National Academy of Engineering, and appears in "Who's Who in American" and "Who's Who in the World." He is the discoverer of the widely used desk-top experiment for making a nylon, the "Nylon Rope Trick."
See More