Textbook
Effective Small Business Management, 7th Edition
ISBN: 978-0-470-00343-5
752 pages
September 2000, ©2001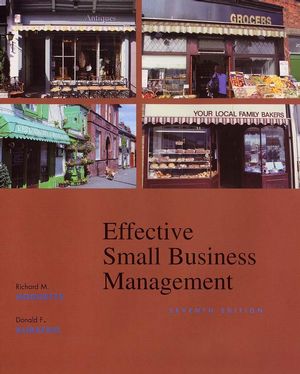 This text introduces the world of small business and details its diverse management aspects. It also presents the most current concerns of small business today, including the expanding world of electronic commerce.
See More
Small Business: The Quiet Giant.
The Technological Revolution and Small Business.
Understanding the Family Business.
Developing a Business Plan.
Starting a New Firm or Buying an Existing Business.
Operating a Franchise.
Opening a Home-Based Business.
Sources of Start-Up Capital.
Determining Location and Layout.
Selecting the Legal Form of an Organization.
Legal Concerns of Small Business.
The Nature of the Managerial Process.
Human Resource Management in Small Business.
Managing the Growing Small Business.
International Opportunities for Small Business.
Understanding the Market.
Pricing for Profit.
Promotion and Personal Selling.
Customer Credit.
Financial Statements and Record Keeping.
Financial Analysis and Budgeting.
See More
Dr. Richard M. Hodgetts
is a professor of management at Florida International University (FIU). His earned degrees in business include a Ph.D. from the University of Oklahoma, an M.B.A. from Indiana University, and a B.S. from New York University. Dr. Hodgetts has published more than 125 articles and papers on a variety of topics ranging from entrepreneurship to strategic management to total quality management. His articles have appeared in a host of journals including the
Academy of Management Journal, Academy of Management Executive, Organizational Dynamics, Business Horizons, Personnel, Personnel Journal, and the Journal of Small Business Management.
He is also the author or coauthor of 49 books. Some of the most recent include
International Business, International Management, Modern Human Relations at Work, Measures of Quality and High Performance,
and
Entrepreneurship, A Contemporary Approach,
Fifth Edition (Harcourt College Publishers, 2001), which he wrote with Dr. Kuratko.
Dr. Hodgetts has consulted for a number of
Fortune
500 firms and has provided training for a wide variety of companies, including AT&T Technologies, Delco Electronics, Eastman Kodak, general Electric, IBM, Motorola, Texas Instruments, and Wal-Mart. He has also lectured in Mexico, Venezuela, Peru, Chile, Jamaica, Trinidad, Denmark, Kuwait, and at a host of U.S. colleges and universities.
In recent years Dr. Hodgetts has been recognized for his teaching and contributions to the field of management. He received the Outstanding Educator Award from the National Academy of Management in 1999; the John F. Mee Management Contribution Award, from the Management History Division of the Academy of Management in 1998; the Professor Excellence Program Award from FIU in 1997, a Teaching Improvement Program Award from FIU in 1996; and an Excellence in Teaching Award from FIU in 1995.
Professor Hodgetts is a fellow of the Academy of Management and a past memeber of the Academy's Board of Governors. He also serves in three academic review boards and writes a biweekly column on small business and entrepreneurship in the
Ft. Lauderdale Sun Sentinel
.
Dr. Donald F. Kuratko is the Stoops Distinguished Professor of Entrepreneurship and founding director of ther Entrepreneurship Program, College of Business, Ball State University. In addition, he is executive director of the Midwest Entepreneurial Education Center. Dr. Kuratko is the first professor ever to be named a Distinguished Professor for the College of Business at Ball State University. He has published more than 150 arcitles on aspects of entrepreneurship, new venture development, and corporate entrepreneurship. His work had been published in journals such as Strategic Management Journal, Journal of Small Business Management, Journal of Business Venturing, Entrepreneurship Theory & Practice, Journal of Small Business Strategy, Family Business Review, Advanced Management Journal and The Small Business Forum.
Dr. Kuratko has authored eight books, including the leading entrepreneurship books in American universities today: Entrepreneurship: A Contemporary Approach, Fifth Edition(Harcourt College Publishers, 2001), as well as Strategic Entrepreneurial Growth (Harcourt College Publishers, 2001), Entrepreneurial Strategy (Dryden Press/Harcourt Brace & Co., 1994), Effective Small Business Management, Seventh Edition, (Harcourt College Publishers, 2001), Management, Third Edition (Dryden Press/Harcourt Brace & Co., 1991), and Corporate Entrepreneurship. In Addition, Dr. Kuratko has been a consultant on corporate intrapreneurship and entrepreneurial strategies to a number of major corporation such as Anthem Blue Cross/Blue Shield, AT&T, United Technologies, Ameritech, The Associated Group (Acordia), Union Carbide Corporation, ServiceMaster, and TruServ.
The academic program in entrepreneurship that Dr. Kuratko developed at Ball State University has received national acclaim with honors as the George Washington Medal of Honor (1987); the Leavey Foundation Award for Excellence in Private Enterprise (1988); the National Model Entrepreneurship Undergraduate Program Award (1990); the NFIB Entrepreneurship Excellence Award (1993); and the National Model Entrepreneurship Graduate Program Award (1998). The Midwest Entrepreneurial Education Center (which Dr. Kuratko developed at Ball State University) has received the Quality Improvement Award from the state of Indiana (1998 and 1999) and the Nasdaq Center for Entrepreneurial Excellence Award (2000). In addition, Ball State University's Entrepreneurship Program has continually earned national rankings including: Top 20 in Business Week and Success magazines; Top 10 business schools for entrepreneurship research over the last ten years (MIT study); and Top 5 in U.S. News & World Report's elite ranking (including the #1 state university for entrepreneurship).
Dr. Kuratko's honors include Professors of the Year for five consecutive years at the College of Business, Ball State University, as well as earning the Ball State University College of Business Teaching Award 14 consecutive years. Dr. Kuratko holds the distinction of being the only professor in the history of Ball State University to achieve all four of the university's major lifetime awards: Outstanding Young Faculty (1987); Outstanding Teaching Award (1990); Outstanding Faculty Award (1996); and Outstanding Researcher Award (1999). Dr. Kuratko was also honored as the Entrepreneur of the Year for the state of Indiana (sponsored by Ernst & Young, Inc. magazine, and Merrill Lynch) and was inducted into the Institute of American Entrepreneurs Hall of Fame (1990). In addition, Dr. Kuratko was named the National Outstanding Entrepreneurship Educator for 1993 (by the U.S. Association for Small Business and Entrepreneurship) and in 1994, he was selected one of the Top Three Entrepreneurship Professors in the United States by the Kauffman Foundation, Ernst & Young, Inc. magazine, and Merrill Lynch. In 1998, he was honored with the Entrepreneurial World of Difference Award by the Indiana Health Industry Forum.
See More
Updated sources and examples in all chapters with the latest data available.
Chapter 2 has been completely revamped with a new section on the Internet and e-commerce.
Chapter 12 has been rewritten to include more information on topical management.
"The Entrepreneurial Edge" boxes highlight the latest in technological advances for entrepreneurs.
"The Technological Edge" boxes feature some of the latest ideas from the World Wide Web as well as other technological advances that benefit small businesses.
See More
Numerous charts and tables illustrate specific text material, expand chapter ideas, or refer to outside source material.
Each chapter closes with a summary of key points, a short exercise, key terms, and short cases to provide current material for student analysis and classroom discussion.
Boxed items throughout the text illustrate contemporary ideas related to entrepreneurship. Each one is unique in its application to entrepreneurial activity in the new century.
Each major part of the text concludes with a comprehensive case study that illustrates venture creations and managerial ideas confronted by actual firms and integrates relevant chapter topics. These cases have been prepared by professionals in the workforce and are referred by professionals who are members of the Society for Case Research. The outcomes of the cases are provided in the Instructor's Manual.
A clear set of learning objectives provides a preview of the chapter material and can be used by students to check whether or not they have understood and retained important points.
See More
Instructors Resources
Contact your Wiley Representative
Find Your Rep

See More
See Less
Students Resources
See More
See Less