Textbook
Explaining Psychological Statistics, 3rd Edition
ISBN: 978-0-470-00718-1
Hardcover
864 pages
October 2007, ©2008
US $165.95

Add to Cart
This price is valid for United States. Change location to view local pricing and availability.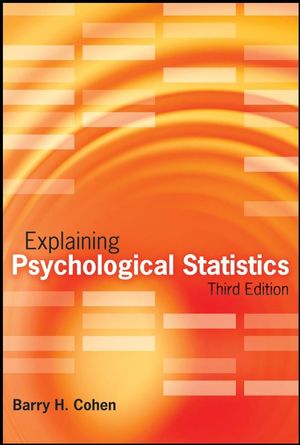 Preface to the Third Edition.
Acknowledgments.
Part One: Descriptive Statistics.
Chapter 1. Introduction to Psychological Statistics.
Chapter 2. Frequency Tables, Graphs, and Distributions.
Chapter 3. Measures of Central tendency and Variability.
Chapter 4. Standardized Scores and the Normal Distribution.
Part Two: One - And Two-Sample Hypothesis Tests.
Chapter 5. Introduction to Hypothesis Testing: The One-Sample z Test.
Chapter 6. Interval Estimation and the t Distribution.
Chapter 7. The t Test For Two Independent Sample Means.
Chapter 8. Statistical Power and Effect Size.
Part Three: Hypothesis Tests Involving Two Measures on Each Subject.
Chapter 9. Linear Correlation.
Chapter 10. Linear Regression.
Chapter 11. The Matched t Test.
Part Four: Analysis of Variance without Repeated Measures.
Chapter 12. One-Way Independent ANOVA.
Chapter 13. Multiple Comparisons.
Chapter 14. Two-Way ANOVA.
Part Five: Analysis of Variance with Repeated Measures.
Chapter 15. Repeated Measures ANOVA.
Chapter 16. TWO-WAY Mixed Design ANOVA.
Part Six: Multiple Regression and Its Connection to ANOVA.
Chapter 17. Multiple Regression.
Chapter 18. The Regression Approach to ANOVA.
Part Seven: Nonparametric Statistics.
Chapter 19. The Binomial Distribution.
Chapter 20. Chi-Square Tests.
Chapter 21. Statistical Tests for Ordinal Data.
Appendix A. Statistical Tables.
Appendix B. Answers to Selected Exercises.
References.
Index.