(Great) Employees Only: How Gifted Bosses Hire and De-Hire Their Way to Success
ISBN: 978-0-470-00788-4
200 pages
September 2006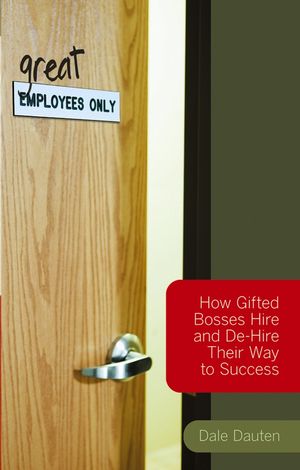 "A mediocre employee in your group is more than one mediocre employee--he or she is a human multiplier-effect, to the downside. If you have even one mediocre employee, you have announced to the world that mediocrity is okay by you, while conceding that you are willing to slow the entire group for the sake of the worst employee.


Thus, allowing that one person to stay is not being kind or generous; it's dangerous. It's dangerous for the individual, who knows that, at some level, he or she is doing second-rate work, and who you are locking into mediocrity, and it is dangerous for the group, which is slowed and distracted."
--from (Great) Employees Only

"Dauten will challenge every preconceived notion you have about making your career take off."
--Harvey Mackay, author of Swim With the Sharks Without Being Eaten Alive

"You'll rediscover the joy that's missing in your career, your coworkers, and yourself."
--Ken Elkins, former president and CEO, Pulitzer Broadcasting Company
See More
Preface.
48 Things Gifted Bosses Know.
PART I: 90-10-0: The Formula for Leadership Success.
Number 1: Hiring Is Motivation, or It's Less Work to Get 100 Percent Improvement than 10 Percent Improvement 2
Number 2: You Can Change People, or You Can Change People.
Number 3: The First Step to Finding Star Employees Is Believing That They Exist, or How to Make the Playing Field as Un-Level as Possible.
Number 4: You Can Lead an Employee to Water, but If You Find One Who Knows a Better Path to the Water, Shut Up and Get a Bucket.
PART II: From Employees to Allies.
Number 5: Those Aren't Employees (or Friends, Enemies, Family, or Students)—Those Are Allies.
Number 6: Those Aren't Former Employees—Those Are Graduates.
Number 7: You Never Get Rid of Anyone.
Number 8: It's Not Closure That's Needed—It's Aperture.
Number 9: How Two Allies (a Great Employee and a Gifted Boss) Find Each Other.
Number 10: Assume the Best, Part I: The Art of Being a True Ally.
Number 11: Assume That the Best Employees ALWAYS KNOW.
Number 12: What's a Great Employee Worth?
PART III: The Graceful Art of De-Hiring.
Number 13: Replacing People Is so Hard for Most Bosses That They Don't Do Enough of It.
Number 14: You Are Becoming Your Coworkers.
Number 15: A Meeting Moves at the Pace of the Slowest Mind in the Room.
Number 16: Firing Takes Guts—De-Hiring Requires Heart.
Number 17: Assume the Best, Part II: The Genius Lurking Inside.
Number 18: The My-Situation-Is-Different Myth: De-Hiring Works in Any Type of Business or Industry, Even Government.
Number 19: Intelligent Failing.
Number 20: You Can't Buy Love from Fired Employees.
Number 21: From Set-Up-to-Fail to Set-Up-to-Be-a-Hero.
Number 22: You Aren't Just Changing Employees—You're Changing Lives.
Number 23: Lessons from a Master of the Art of De-Hiring.
PART IV: Inspiring, Effortless Leadership (The First Step in Hiring Great Employees).
Number 24: You Can Take Credit, but You Can't Give It Away 86
Number 25: Effortless Leadership, Part I: No One Wants to Be Managed, so Stop Doing It.
Number 26: Effortless Leadership, Part II: Management by Asking Questions.
Number 27: Effortless Leadership, Part III: The One Who Manages Least, Manages Best.
Number 28: Effortless Leadership, Part IV: Winning versus Working.
Number 29: Guess What Kind of Employee Is Attracted to Average Pay?
Number 30: Never Bet on Employees Who Don't Want to Bet on Themselves.
Number 31: What's the Score? or How to Go from Shooting Around to Playing to Win.
Number 32: You Get What You Pay For: What Employees Believe They Get Paid For, Not What You Thought You Were Paying For.
Number 33: When the Inspired Culture Takes over the Hiring and De-Hiring.
PART V: Hiring Is What You Do So You Don't Have to Manage (and It's What You Do with Some of the Time You Save by Not Having to Manage).
Number 34: Hiring Is More Important than Sales.
Number 35: The Hiring Pipeline: The Best Selection Process in the World Is Only Capable of Picking the Best Person in the Competition.
Number 36: Contrarian Hiring, Part I: The Underground Talent Market.
Number 37: If You're Feeling Insulted Right about Now.
Number 38: Contrarian Hiring, Part II: Finding Unusual People in the Usual Places.
Number 39: Contrarian Hiring, Part III: The Action Interview.
Number 40: Contrarian Hiring, Part IV: It's Not Just a Job—It's a Break.
Number 41: Contrarian Hiring, Part V: Hunting for New Talent Pools and/or Doing Pool Construction.
Number 42: Being Worthy of the Best Talent: In the Long Run, You Get the Employees You Deserve.
Number 43: If You Want Great Performances, You Have to Provide a Great Audience.
Number 44: If You Don't Have a Great Story, You Don't Have Great Employees or a WOMPing Good Place to Work.
PART VI: Understanding Bureaucrats, Upper Management, and Other Distractions.
Number 45: The Unspoken Assumption of Bad Management and Bad Marketing.
Number 46: The Team Makes the Stars While the Stars Make the Team.
Number 47: Your Work Is Only Part of Your Job.
Number 48: Leading via Happiness.
Final Thoughts.
Acknowledgments and Sources.
About the Author.
See More
Dale Dauten writes two nationally syndicated weekly columns that appear in more than one hundred newspapers. He began his career as a consultant before heading his own marketing research firm, whose clients include McDonald's, Procter & Gamble, and 3M, among others. Most recently, as the founder of The Innovator's Lab, he has worked with such companies as Georgia-Pacific, General Dynamics, Caterpillar, and NASA. He is also the author of The Gifted Boss.
See More