Software
Client Compass Version 4.0: Practice Management Software for Life, Business, and Executive Coaches, CD-ROM Package
ISBN: 978-0-470-00856-0
June 2006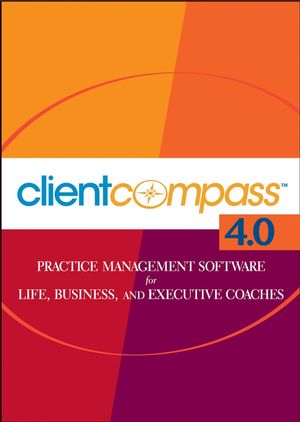 Developed by coaches for coaches,
Client Compass
will help you save time-and earn more money.
Client Compass
is like having a virtual assistant-automating invoicing, managing your prospect list, and keeping track of client contact hours for billing and certification.
Client Compass features a built-in, approved ICF form for tracking certification hours. Easy-to-use, and flexible enough to customize to fit your practice needs, Client Compass software helps you guide your clients and your practice toward success!
With Client Compass Software you can:
Utilize our unique call timer which automatically tracks and records client sessions-useful for billing and for recording contact hours for certification
Perform client intake and manage client sessions-import client-prepared forms, utilize our unique client checklist
Carry out assessments-a built in assessment tool helps you to set goals with your clients-you can also create or import custom assessments
Manage client records-record contact information, session documentation, and billing-all in one place
Keep track of client appointments-the built in scheduler helps you manage your calendar-and it syncs easily and accurately with Outlook
Grow your coaching practice-our unique Practice Building section includes proven business and marketing strategy planning tools that have helped thousands of coaches build their businesses
See More