Windows XP Visual Quick Tips
ISBN: 978-0-470-00924-6
224 pages
January 2006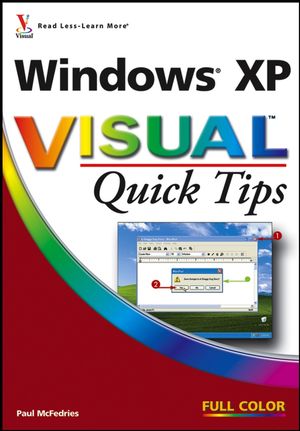 * Straight-forward task descriptions
* Succinct explanations
* Full-color screen shots
* Numbered steps

Learn How To:
* Maximize Your E-mail Security
* Make Your File Searches Run Faster
* Encrypt Confidential Files and Folders
See More
Chapter 1: Make Windows XP Faster and More Efficient.
Create Shortcuts for Your Favorite Programs.
Transfer Your Settings from an Old Computer.
Adjust Visual Effects for Best Performance.
Ensure Windows XP Is Optimized for Programs.
Adjust a Program's Priority for Better Performance.
Turn Off Confirmation for Deleted Files.
Hear an Alert When You Press the Caps Lock Key.
Force Windows XP to Use Less Disk Space.
Disable Fast User Switching.
Display a Network Folder As a Disk Drive on Your Computer.
Chapter 2: Set Up Windows XP the Way You Want.
Pin an Item to Your Start Menu.
Remove an Item from Your Start Menu.
Change the Number of Programs on Your Start Menu.
Show Control Panel As a Menu on Your Start Menu.
Create a Custom Program Access Configuration.
Schedule Automatic Updates.
Synchronize Your System Time.
Customize Your Desktop Icons.
Make Your Desktop Icons Easier to See.
Chapter 3: Enrich Your Media Experience.
Customize a Media Folder by Applying a Template.
Publish Your Images to a Web Site.
Open Your Images for Editing by Default.
Compress Your Image Files.
Add Your Own Notes to an Image.
Add Sounds to Windows XP Events.
Activate the Mini Player Toolbar.
Adjust Playback Settings for Audio and Video.
Disable CD Recording.
Enable Parental Control for DVDs.
Chapter 4: Get the Most Out of Your Files and Folders.
Open Your Files and Folders with a Single Click.
Open a File with a Different Program.
Add Destinations to Your Send To Menu.
Protect a File by Making It Read-Only.
Make Your File Searches Run Faster.
Move Your My Documents Folder .
Back Up Files to a Recordable CD.
Change the Default Action for a File Type.
Work with Network Files Offline.
Interrupt Printing a File.
Chapter 5: Maximize Your Internet Connections.
Connect to the Internet Automatically.
Add an Alternate ISP Phone Number.
Dial Using Area Code Rules.
Dial a Number to Access an Outside Line.
Turn Off Your Modem's Sounds.
Share Your Connection on the Network.
Disconnect Automatically After Your Computer Has Been Idle.
See an Alert When Your Broadband Connection Has a Problem.
Chapter 6: Enhance Internet Security and Privacy
Protect Your Computer from Internet Intruders.
Guard Your Internet Passwords.
Restrict Internet Content.
Set the Web Security Level.
Thwart E-mail Viruses by Reading Messages in Text.
Thwart Web Bugs by Blocking Images in Messages.
Maximize Your E-mail Security.
Prevent Outlook Express from Sending a Read Receipt.
Block People Whose Messages You Do Not Want.
Block Spam Messages.
Password-Protect Your Outlook Express Identity.
Play Internet Media Safely.
Play Internet Media Privately.
Chapter 7: Unleash the Power of Internet Explorer.
Customize the Links Bar for Easier Surfing.
Save an Image to Your Computer.
Turn Off Web Page Sounds and Animations.
Search from the Address Bar.
Set Up Another Search Engine for Address Bar Searching.
Remove Saved Addresses from the Address Bar.
Block Pop-Up Ads.
Chapter 8: Make E-mail Easier.
Go to Your Inbox Automatically.
Change How Often You Check for Messages.
Leave Your Messages on the Server.
Change Your Message Priority.
Create an E-mail Distribution List.
Change the Location of Your Message Store.
Create a Backup Copy of Your Address Book.
Identify Unknown Senders.
Exchange Electronic Business Cards.
Chapter 9: Enhance Your Computer's Security and Privacy.
Add a Password to Your User Account.
Require Ctrl+Alt+Delete Before Logging On.
Switch to Advanced File Permissions .
Encrypt Confidential Files and Folders.
Prevent Access to Your Computer with a Screen Saver.
Prevent Others from Starting Your Computer.
Clear Your List of Recently Used Documents.
Clear Your List of Recently Viewed Media Files.
Prevent Malicious Code from Running.
Chapter 10: Extend Your System with PowerToys for Windows XP.
Download and Install PowerToys.
Switch Programs with Alt-Tab Replacement.
Quickly Access the Command Prompt.
Resize Pictures with Image Resizer.
View Multiple Desktops Simultaneously.
Create a CD Slide Show.
Magnify Your Screen with Taskbar Magnifier.
Perform Advanced Calculations.
Take Webcam Pictures at Regular Intervals.
See More
Paul McFedries is the president of Logophilia Limited, a technical writing company. Paul has worked with computers large and small since 1975. He has written over 40 books that have sold nearly three million copies worldwide, including the Wiley book Teach Yourself VISUALLY Windows XP, 2nd Edition. Paul is also the proprietor of Word Spy, a Web site devoted to recently coined words and phrases. Word Spy generates over a million page views each month, has won numerous awards, and has been mentioned or featured in publications such as The New York Times, the Wall Street Journal, and Time magazine. Paul invites you to join in the fun at www.wordspy.com.
See More