PowerPoint 2007 Just the Steps For Dummies
ISBN: 978-0-470-00981-9
231 pages
March 2007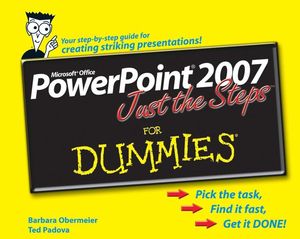 When you're trying to harness the power of PowerPoint, you don't want to wade through lots of background and definitions; you want to make things happen!
Power Point Just the Steps for Dummies
puts your hands and eyes to work immediately so you can finish any PowerPoint project in a flash.  Just choose your task, follow the step-by-step instructions and vivid illustrations, and POOF! It's done. In seconds, you'll be:
Creating a new presentation
Resizing or moving an object
Duplicating a slide
Using the outlining toolbar
Adding notes to a slide
Printing your presentation
Setting up a slide show
Working with pictures and clip art
Coloring text and objects
Modifying the slide master
Creating a template
Inserting a diagram or chart
Adding sound and video
And more
Whether you're new to PowerPoint, pressed for time, or visually oriented, this get-it-done guide will help make your next PowerPoint presentation look like a work of genius!
See More
Introduction.
Part I: Creating a Presentation.
Chapter 1: Getting Started with PowerPoint.
Chapter 2: Customizing the PowerPoint Interface.
Chapter 3: Building Your Presentation and Adding Content.
Chapter 4: Basic Editing Techniques.
Chapter 5: Advanced Editing and Formatting.
Chapter 6: Working with Masters.
Part II: Adding Visual Interest to Slides.
Chapter 7: Adding Lines and Shapes.
Chapter 8: Applying Themes and Styles.
Chapter 9: Working with Pictures.
Chapter 10: Creating Tables and Charts.
Chapter 11: Creating Organizational Charts and Diagrams using SmartArt.
Part III: Adding a Dash of Pizzazz with Multimedia.
Chapter 12: Integrating Sound and Movies.
Chapter 13: Incorporate Hyperlinks and Transitions.
Chapter 14: Incorporate Animation.
Part IV: Presenting Effectively.
Chapter 15: Preparing the Presentation.
Chapter 16: Sharing Your Presentation.
Index.
See More
Barbara Obermeier
is principal of Obermeier Design, a graphic design studio in Ventura, California. She's the author of
Photoshop CS2 All-in-One Desk Reference For Dummies
and has contributed as author or coauthor on numerous computer graphics books. Barb is also a faculty member in the Visual Communication Department at Brooks Institute in Ventura.
Ted Padova is the author of more than 25 computer books. He writes primarily on Adobe Acrobat, Adobe Photoshop, Photoshop Elements, and Adobe Illustrator. He is a nationally and internationally known speaker on Adobe Acrobat and digital imaging.
See More