Windows Administration at the Command Line for Windows 2003, Windows XP, and Windows 2000: In the Field Results
ISBN: 978-0-470-01000-6
Paperback
552 pages
April 2006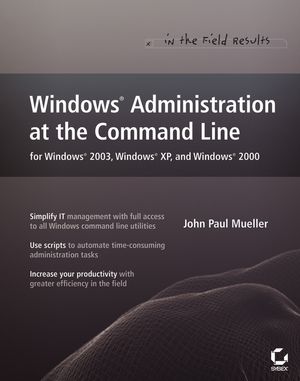 This title is out-of-print and not currently available for purchase from this site.
Introduction.
PART 1: STANDARD WINDOWS UTILITIES.
Chapter 1. Usiing the Command Line Effectively.
Chapter 2. Completing Data-Specific Tsks.
Chapter 3. Discovering the System Status.
Chapter 4. Locating Files and Other Resources.
Chapter 5. Securing and Monitoring a System.
Chapter 6. Using Developer and Low Level Utilities.
PART 2: USING WINDOWS AUTOMATION.
Chapter 7. Creating CMD and BAT Files.
Chapter 8. Working with Scripts.
Chapter 9. Scripting for Active Directory.
Chapter 10. Using Tsk Scheduler Effectively.
Chapter 11. After Hours Automation Scripting.
PART 3: RELYING ON THIRD PARTY AUTOMATION.
Chapter 12 Obtaining Command Prompt Enhancers.
Chapter 13. Increasing Productivity at the Command Line.
Chapter 14. Editing and Compiling Batch Files and Scripts.
PART 4: WORKING WITH THE .NET FRAMEWORK UTILITIES.
Chapter 15. Understanding the .NET Framework Versions.
Chapter 16. Cinfiguring the .NET Framework.
Chapter 17. Configuring ASP.NET.
PART 5: WINDOWS VISTA SPECIAL FEATURES PREVIEW.
Chapter 18. Using the Enhanced Vista Utilities.
Chapter 19 Working with Monad.
Appendix: 52 Indispensable Command Line Tricks and Techniques.
Glossary.
Index.