UMTS Networks: Architecture, Mobility and Services, 2nd Edition
ISBN: 978-0-470-01103-4
422 pages
March 2005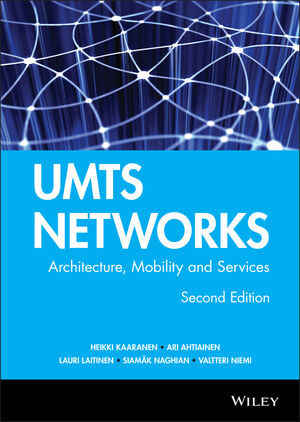 Building on the success of the first edition, UMTS Networks second edition allows readers to continue their journey through UMTS up to the latest 3GPP standardization phase, Release 5. Containing revised, updated and brand new material, it provides a comprehensive view on the UMTS network architecture and its latest developments. Accompanied by numerous illustrations, the practical approach of the book benefits from the authors' pioneering research and training in this field. 
Provides a broad yet detailed overview of the latest worldwide developments in UMTS technology.
Includes  brand new sections on the IP Multimedia Subsystem and High Speed Downlink Packet Access according to 3GPP Release 5 specifications.
Contains heavily revised sections on the evolution from GSM to UMTS Multi-access, the UMTS Radio Access Network, the UMTS Core Network and services.
Includes updated versions on services in the UMTS environment, security in the UMTS environment and UMTS protocols.
Illustrates all points with cutting-edge practical examples gleaned from the authors' research and training at the forefront of UMTS.
The illustrative, hands-on approach will appeal to operators, equipment vendors, systems designers, developers and marketing professionals who require comprehensive, practical information on the latest developments in UMTS. This second edition will also benefit students and researchers in the field of mobile networking.
See More
Preface.
Acknowledgements.
PART ONE.
1. Introduction.
1.1 Specification Process for 3G.
1.2 Introduction to the 3G Network Architecture.
2. Evolution from GSM to UMTS Multi-access.
2.1 From Analogue to Digital.
2.2 From Digital to Reachability.
2.3 Jump to Packet World and Higher Speeds.
2.4 3GPP Release 99.
2.5 3GPP Release 4.
2.6 3GPP Release 5.
2.7 Trends beyond 3GPP Release 5.
PART TWO.
3. The Key Challenges Facing the Mobile Network Architecture.
3.1 Radio Communication Constraints.
3.2 Cellular Radio Communication Principles.
3.3 Multi-access Techniques.
3.4 Device Mobility.
3.5 Network Transport.
3.6 Transport Alternatives for UMTS.
3.7 Network Management.
3.8 Spectrum and Regulatory.
4. Overview of UMTS Radio Access Technologies.
4.1 WCDMA Essentials.
4.2 WCDMA Enhancement—HSDPA.
4.3 GSM/EDGE.
4.4 WLAN Technology.
5. UMTS Radio Access Network.
5.1 UTRAN Architecture.
5.2 Base Station (BS, Node B).
5.3 Radio Network Controller (RNC).
6. UMTS Core Network.
6.1 UMTS Core Network Architecture.
6.2 CN Management Tasks and Control Duties.
6.3 Charging, Billing and Accounting.
6.4 IPMultimedia Subsystem (IMS).
6.5 IPMultimedia Subsystem Fundamentals.
6.6 IMS Entities and Functionalities.
7. The UMTS Terminal.
7.1 Terminal Architecture.
7.2 Differentiation of Terminals.
7.3 Terminal Capabilities.
7.4 UMTS Subscription.
7.5 User Interface.
8. Services in the UMTS Environment.
8.1 About Services in General.
8.2 Quality of Service (QoS).
8.3 About Service Subsystems.
8.4 Conclusions.
9. Security in the UMTS Environment.
9.1 Access Security in UMTS.
9.2 Additional Security Features in 3GPP R99.
9.3 Security Aspects at the System and Network Level.
9.4 Protection of Applications and Services.
9.5 Lawful Interception.
PART THREE.
10. UMTS Protocols.
10.1 Protocol Reference Architectures at 3GPP.
10.2 UMTS Protocol Interworking Architecture.
10.3 Transport Network Protocols.
10.4 Radio Network Protocols.
10.5 System Network Protocols.
10.6 Summary of UMTS Network Protocols.
10.7 Overview of IMS Protocols.
11. Procedure Examples.
11.1 Elementary Procedures.
11.2 RRM Procedure Examples.
11.3 MM Procedure Examples.
11.4 CC Procedure Example.
11.5 Packet Data Example.
11.6 IMS Examples.
List of Abbreviations.
Bibliography.
Index.
See More