Vascular-Targeted Therapies in Oncology
ISBN: 978-0-470-01294-9
368 pages
April 2006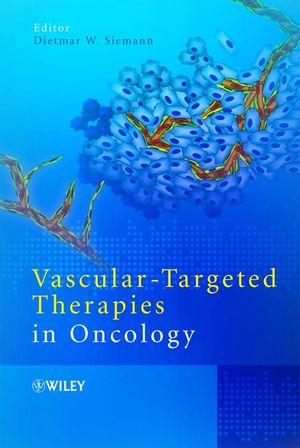 Vascular-Targeted Therapies in Oncology provides an interesting insight to the current status and future potential of vascular-disrupting approaches in cancer management. Emphasis is placed on target development, preclinical assessment, and the use of such targeted approaches in combination with conventional treatment regimens and the current clinical status of these therapies.
See More
Preface.
List of Contributors.
1 – Tumor Vasculature: a Target for Anticancer Therapies (Dietmar W. Siemann).
2 – Abnormal Microvasculature and Defective Microcirculatory Function in Solid Tumors (Peter Vaupel).
3 – The Role of Microvasculature in Metastasis Formation (Oliver Stöltzing, Lee M. Ellis).
4 – Development of Agents that Selectively Disrupt Tumor Vasculature: a Historical Perspective(David Chaplin, Sally A. Hill).
5 – Morphologic Manifestations of Vascular-Disrupting Agents in Preclinical Models (Mumtaz V. Rojiani, Amyn Rojiani).
6 – Molecular Recognition of the Colchicine Binding site as a Design Paradigm for the Discovery and Development of Vascular-Disrupting Agents (Kevin G. Pinney).
7 – Combined Modality Approaches Using Vascular-Disrupting Agents (Wenyin Shi, Michael R. Horsman, Dietmar W. Siemann).
8 – Vascular-Targeting Therapies and Hyperthermia (Michael R. Horsman, Rumi Murata).
9 – Flavones and Xanthenones as Vascular-Disrupting Agents (Bronwyn Siim, Bruce Baguley).
10 – Targeting Inside-Out Phospholipids on Tumor Blood Vessels in Pancreatic Cancer (Adam W. Beck, Rolf Brekken, Philip E. Thorpe, PhD).
11 – Cadherin Antagonists as Vascular-Targeting Agents (Orest Blaschuk, Tracey M. Rowlands).
12 – Alphastatin: a Pluripotent Inhibitor of Activated Endothelial Cells (Carolyn A. Staton, Claire Lewis)
13 – Cationic Lipid Complexes to Target Tumor Endothelium (Uwe Michaelis, Michael Teifel).
14 – Development of Vascular-Targeted Cancer Gene Therapy (Graeme J. Dougherty, Peter D. Davis, Shona T. Dougherty).
15 – Vascular-Disrupting Strategies Combined with Bacterial Spores Targeting Hypoxic Regions of Solid Tumors (G-One Ahn, J. Martin Brown).
16 – Imaging the Effects of Vascular-Targeting Agents (Susan M. Galbraith).
17 – Clinical Progress in Tumor Vascular-Disrupting Therapies (Andy Gaya, Gordon Rustin).
18 – Use of Vascular-Disrupting Agents in Non-Oncology Indications (Joseph C. Randall, Scott Young).
See More