Handbook of Attention Deficit Hyperactivity Disorder
ISBN: 978-0-470-01444-8
536 pages
April 2008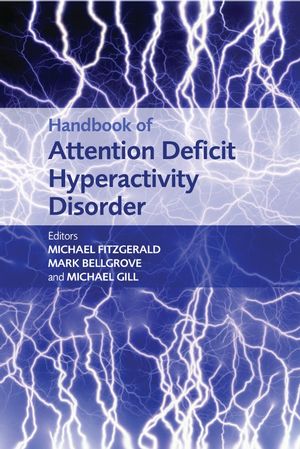 Attention deficit hyperactivity disorder (ADHD) is one of the most prevalent childhood psychiatric disorders of our time. The condition is defined by levels of inattention, hyperactivity and impulsivity that are in impairing and developmentally inappropriate. Increasingly, there is a growing appreciation that for many individuals the disorder may persist into adulthood and be associated with significant social and economic burden.


Conditions, such as ADHD, that are manifestly heterogeneous in terms of their clinical presentation, underlying neurobiology and treatment response, must be tackled on multiple fronts. This Handbook of Attention Deficit Hyperactivity Disorder provides a state of the art position on each of these fronts from leading clinicians and researchers from around the world. Broad in its scope and comprehensive in its detail, this book should be as useful to the student as it is to the experienced clinician or researcher.
See More
About the Editors
List of Contributors
Preface (Michael Fitzgerald, Mark A. Bellgrove and Michael Gill).
Part I: CLINICAL PERSPECTIVES.
Chapter 1 The History of Attention Deficit Hyperactivity Disorder (Louise Sharkey & Michael Fitzgerald).
Chapter 2 Diagnosis and Classification of ADHD in Childhood (Louise Sharkey & Michael Fitzgerald).
Chapter 3 Diagnosis and Classification of ADHD in Adulthood (Aiveen Kirley).
Chapter 4 ADHD and comorbid Oppositional Defiant and Conduct Disorders (Paul McArdle).
Chapter 5 ADHD, Autism Spectrum Disorders and Tourette's Syndrome: Investigating the evidence for Clinical and Genetic Overlap (Louise Gallagher, Mark Bellgrove, Ziarih Hawi, Ricardo Segurado & Michael Fitzgerald).
Chapter 6 Forensic Aspects of ADHD (Susan Young).
Part II: NEUROBIOLOGICAL PERSPECTIVES.
Chapter 7 Behaviour Genetic Approaches to the Study of ADHD (Kellie S. Bennett, Florence Levy and David A. Hay).
Chapter 8 Molecular Genetic Aspects of Attention Deficit Hyperactivity Disorder (Ziarih Hawi & Naomi Lowe).
Chapter 9 Environmental Risk Factors and Gene-Environment Interaction in Attention Deficit Hyperactivity Disorder (Edwina Barry and Michael Gill).
Chapter 10 The Genetics of Adult ADHD (Frank A. Middleton and Stephen V. Faraone).
Chapter 11 Functional Neuroimaging of Reward and Motivational Pathways in ADHD (Clare Kelly, Anouk Scheres, Edmund S.J. Sonuga-Barke, and F Xavier Castellanos).
Chapter 12 Genes, Cognition and Brain Activity: The Endophenotype Approach to ADHD (Mark A. Bellgrove, Ian H. Robertson and Michael Gill).
Chapter 13 The Psychopharmacology of ADHD (Mary V. Solanto, Russell Schachar and Abel Ickowicz).
Chapter 14 Catecholamines and the Prefrontal Cortical Regulation of Behaviour and Attention (Amy F.T. Arnsten).
Chapter 15 Stimulant Response in ADHD and Comorbid Anxiety Disorder (Alasdair Vance).
Chapter 16 Avenues for Pharmacogenetic Research In ADHD (Edwina Barry, Ziarih Hawi, and Aiveen Kirley).
Part III: TREATMENT PERSPECTIVES.
Chapter 17 Cognitive Behavioural Treatment of ADHD (Susan Young).
Chapter 18 ADHD in the Classroom: Symptoms and Treatment (Will Wilkinson and Malie Lagendijk).
Chapter 19 Psychosocial Treatments for Adults with ADHD (Sam Goldstein and Robert Brooks).
Chapter 20 Avenues for the Neuro-Remediation of ADHD: Lessons from Clinical Neurosciences (Redmond G. O'Connell, Mark A. Bellgrove and Ian H. Robertson).
Part IV: CONCLUDING THOUGHTS.
Chapter 21 Evolutionary Aspects of ADHD (Ester Klimkeit and John L. Bradshaw).
Chapter 22 Future Directions in ADHD Research and Clinical Practice (Mark A. Bellgrove and Eric T. Taylor).
Index.
See More
Michael Fitzgerald
is the Henry Marsh Professor of child and Adolescent Psychiatry at Trinity College Dublin, Ireland and was the first Professor of Child Psychiatry in Ireland. Michael has held positions at the Bethlem Royal and Maudsley Hospital London and the National Hospital for Nervous Diseases, Queens's Square, as well as King's College Hospital, London. He received an MB from University College Galway and an MD from Trinity College Dublin. Michael has special interests in ADHD and autism and has over 300 published contributions to the literature including books, peer-reviewed papers and letters to the editors. He has edited or co-edited eight books.
Mark Bellgrove is a University of Queensland Principal Research Fellow at the Queensland Brain Institute (QBI) and School of Psychology at the University of Queensland, Brisbane, Australia. Mark is an experimental psychologist by training and completed his Ph.D. at Monash University, Australia. Mark undertook postdoctoral training within the Departments of Psychology, Psychiatry and Institute of Neuroscience at trinity College Dublin, Ireland, working on endophenotypes for ADHD. Subsequently, Mark returned to Australia as a National Health and Medical Research Council Howard Florey Centenary Fellow, working at eh University of Melbourne. Mark has a special interest in the cognitive neuroscience of psychiatric disorders, including ADHD, autism and schizophrenia.
Michael Gill is Professor and Head of the Discipline of Psychiatry within the School of Medicine and Health Sciences at Trinity College Dublin, Ireland. Michael leads the Neuropsychiatric Genetics Research group which studies the molecular bases of a number of psychiatric conditions including programmes in ADHD, schizophrenia, and autism. Michael completed his MD at Dublin University and is a Fellow of Trinity College Dublin. Michael is a past Wellcome trust Research Fellow and Wellcome trust Senior Research Fellow at the Institute of Psychiatry, London. Michael has published over 200 peer-reviewed journal articles and his research has attracted major funding from national and international funding agencies.
See More