Protecting Powers: Emergency Intervention for Children's Protection
ISBN: 978-0-470-01602-2
260 pages
September 2007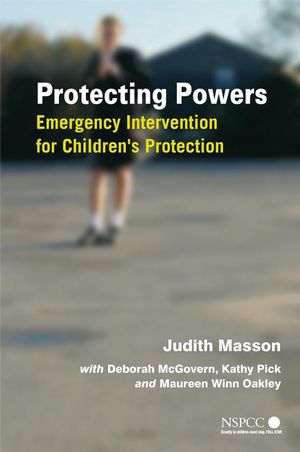 The book is based on two research projects on emergency intervention, which were carried out by the author and her colleagues. The studies provide the basis for the three themes in the book: Inter-agency Working; Perceptions of Safety; and Placement and Resource Issues. The combination of quantitative and qualitative research allows a detailed picture of practice that goes beyond an account of what happens, to explore the perceptions, understandings and experiences of the practitioners who make these decisions, as social workers, police officers magistrates' legal advisers or magistrates, and of the lawyers who advise social workers and parents.
The book provides a critical account of current practice in emergency child protection, it identifies good practice and make proposals for reform.
See More
List of Tables and Figures.
About the Authors.
Acknowledgements.
Preface.
Chapter 1 Emergency powers for child protection.
Chapter 2 The development of emergency powers.
Chapter 3 The police, child protection and police protection.
Chapter 4 Working together? The police, social services and police protection.
Chapter 5 Children, families and applications for Emergency Protection Orders.
Chapter 6 Local authority decisions to seek emergency protection.
Chapter 7 The court process in emergency protection cases.
Chapter 8 The EPO and afterwards.
Chapter 9 Emergency intervention – Reassessment and Reform.
Appendix A. Details o Research Methods.
Appendix B. List of Cases.
Bibliography.
Index.
See More
Judith Masson is Professor of Law at the University of Warwick, UK. She is an Academic Member of the Judicial Studies Board Family Law Committee and has acted as a specialist advisor on childcare issues for the UK government. She is the author of several books including Out of Hearing, which was published by Wiley in 1999.
See More
More in this series