Digital Data Integrity: The Evolution from Passive Protection to Active Management
ISBN: 978-0-470-01827-9
256 pages
May 2007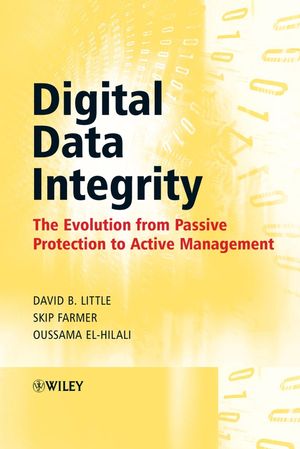 How to plan your future strategy for efficient, cost-saving data management
Businesses have historically treated data protection as an afterthought, as simply making an occasional copy of data that could be used in the future. Today, this attitude is changing rapidly. The ever-increasing amount of data, along with the emphasis on continuous availability, necessitates changes in the approach to data integrity, which results in management and protection becoming much more closely aligned. Digital Data Integrity throws light on the data integrity landscape of the future. It provides the reader with a brief overview of the historical methods and subsequent evolution of data protection. The text shows how the whole subject of data integrity is changing and describes and positions many of the new, enhanced, more intelligent protection technologies and methods.
Digital Data Integrity:
Takes a unique, forward look at data protection and management, highlighting the paradigm shift from simple backup and recovery to total data management.
Details recent developments in compliance regulations in an accessible manner.
Covers enhanced protection technologies such as advanced intelligent synthetic backups, data reduction methods, and data growth – online protection using continuous data protection.
Explains data life cycle management and data storage, using management, quality of service products and tools to achieve better data management, intelligent allocation of storage, and compliance with regulations.
Contains information on quality control, looking at SLA (Service Level Agreements), protection by business unit and billing/charge back.
Unique insight into hot topics such as next generation bare metal recovery and true system provisioning.
This invaluable text will provide system administrators, and database administrators, as well as senior IT managers and decision makers with a thorough understanding of data management and protection.
With contributions from Ray Schafer and Paul Mayer.
See More
Acknowledgements.
Introduction.
1. An Introduction to Data Protection Today.
1.1 Introduction.
1.2 Traditional Backup and Recovery.
1.3 Hierarchical Storage Migration (HSM).
1.4 Disaster Recovery.
1.5 Vaulting.
1.6 Encryption.
1.7 Management and Reporting.
1.8 Summary.
2. The Evolution.
2.1 Introduction.
2.2 Storage Virtualization.
2.3 RAID.
2.4 RAID Levels.
2.5 What Mirroring and RAID Do Not Do.
2.6 Replication.
2.6.1 Host-Based Replication.
2.6.2 RAID System Replication.
2.7 Standby or DR Site.
2.8 Summary.
3. Backup Integration.
3.1 Introduction.
3.2 Snapshots.
4. Bare Metal Restore.
4.1 Introduction.
4.2 Background.
4.3 The Evolution of BMR Capabilities.
4.4 Filling the Gap – Integrated BMR.
4.5 The Problem of Dissimilar Disk Recovery.
4.6 The Problem of Automating Disk Mapping.
4.7 The Problem of Dissimilar System Recovery.
4.8 The Current State of Integrated BMR.
4.9 The Future of BMR.
4.10 New Capabilities and Challenges in Data Protection and the Effect on Bare Metal Recovery.
4.11 Large-Scale Automated Bare Metal Recovery.
4.12 Summary.
5. Management.
5.1 Introduction 67
5.2 Protecting Data Throughout Its Life Cycle.
5.3 Architecting for Efficient Management.
5.4 Reporting.
5.5 Business Unit Chargeback.
5.6 Conclusion.
6. Security.
6.1 Introduction.
6.2 Encryption and Data Protection.
6.3 Data Protection Application Security.
6.4 Security Vulnerabilities in Data Protection Applications.
6.5 Conclusion.
7. New Features in Data Protection.
7.1 Introduction.
7.2 Synthetic Backups.
7.3 Evolution of Synthetic Backups.
7.4 Benefits of Synthetic Backups.
7.5 Building a Synthetic Backup.
7.6 Technical Considerations and Limitations.
7.7 Disk-Based Solutions.
7.8 Disk to Disk.
7.9 Disk Staging.
7.10 Virtual Tape.
7.11 Disk-Based Data Protection Implementation Issues.
7.12 Conclusion.
8. Disk-Based Protection Technologies.
8.1 Introduction.
8.2 Disk Synthetic Backup.
8.3 Online Protection: CDP.
8.4 Data Reduction: SIS.
8.5 New Pricing Paradigms for Disk-Based Protection.
8.6 Conclusion.
9. Managing Data Life Cycle and Storage.
9.1 Introduction.
9.2 Issues Surrounding Data Life Cycle.
9.3 Data Life Cycle Management.
9.4 Application Considerations.
9.5 Additional Considerations.
9.6 Security.
9.7 Compliance.
9.8 Conclusion.
10. Quality Control.
10.1 Introduction.
10.2 Quality Control as a Framework.
10.3 Managing the Service Level Agreements (SLAs).
10.4 Protection by Business Unit.
10.5 Application Considerations.
10.6 Policy and Compliance.
10.7 Cost Modelling.
10.8 Security.
10.9 Conclusion.
11. Tools for the System.
11.1 Introduction.
11.2 HA.
11.3 Provisioning.
11.4 Virtualization.
11.5 Summary.
Conclusion.
Glossary.
Appendix A.
Appendix B.
Index.
See More
David Little
is Data Protection specialist for VERITAS Software.  He has worked in the IT industry for 37 years, nine of which were spent working with data protection applications.   David is co-author of
Implementing Backup and Recovery: The Readiness Guide for the Enterprise.
Skip Farmer is Senior Staff Systems Engineer and a member of the VERITAS Government Specialist Organization, focusing on Data Protection for VERITAS Software in the Government space.  He has worked with data protection products for six years, and has 12 years in industry.
Oussama El-Hilali is Director, Product Management Team, NetBackup at VERITAS Software.  During his tenure he has helped enhance the Data Management products through product definition based on customer and partner interaction and technology acquisitions.  Oussama has been in the software development industry for 15 years.
See More