Obesity: Science to Practice
ISBN: 978-0-470-01911-5
604 pages
April 2009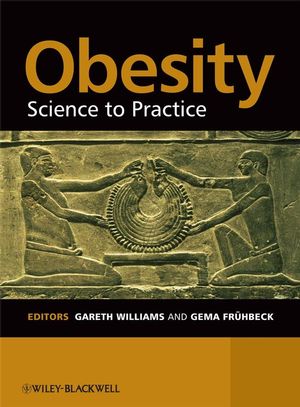 This comprehensive textbook addresses one of the major public health concerns of our era – obesity. Clearly and simply, Obesity: science to practice provides a balanced, coherent account of obesity: how to define and measure it, its epidemiology, the physiological basis, associated diseases, how to assess, manage and treat it, and also strategies for prevention. The book is generously illustrated, including graphs and flow charts for easy reference. The chapters cite key references so that interested readers may pursue a given topic in more detail. Well presented and thoroughly edited by one of the leading experts in the field, this is the textbook of choice for anyone working in obesity.
See More
Preface xiii
List of Contributors xv
1 History of Obesity 3
George A. Bray
Early human history 3
History of the biology of obesity 6
Descriptions and measurements of obesity 7
Metabolism and energy balance 8
Health hazards of obesity 10
Causes of obesity 12
Treatment of obesity 15
Growth of the scientifi c community 16
References 17
2 Epidemiology and Social Impact of Obesity 21
Neville Rigby, Rachel Leach, Tim Lobstein, Rachel Huxley, and Shiriki Kumanyika
Definitions of obesity 21
Current and recent prevalences of obesity 25
Childhood obesity 31
Predicted increases in obesity in adults 34
Comorbidities of obesity 35
Costs of obesity to society 37
Conclusions 39
References 39
3 Key Methodologies in Obesity Research and Practice 45
Susan A. Jebb, Alexandra M. Johnstone, Janet Warren, Gail R. Goldberg, and Les Bluck
Anthropometric indices 45
Measurements of body composition 49
Measurements of fat distribution 53
Measuring energy balance 55
Assessing insulin sensitivity 66
References 72
4 Adipose Tissue: Development, Anatomy and Functions 79
Dominique Langin, Gema Frühbeck, Keith N. Frayn, and Max Lafontan
Introduction 79
Development of white adipose tissue 79
Structure of white adipose tissue 82
Fat storage and mobilization 88
Adipokines 93
Receptors expressed by adipose tissue 98
Brown adipose tissue 98
Adipose tissue development and dynamics 102
References 103
5 The Regulation of Energy Balance: An Overview 111
Gareth Williams
Regulation of body fat and composition 111
Regulation of energy intake and expenditure 118
Lessons from other species: informative or misleading? 120
Causes of obesity 121
References 124
6 Control of Eating 127
Wolfgang Langhans, Joanne Harrold, Gareth Williams, and Nori Geary
Flavour and orosensory signals 127
Gut signals 129
Metabolic signals 133
Adiposity signals 136
The neuroanatomy of eating regulation 140
The neuropharmacology of eating control 147
Modulating factors 151
References 152
7 Energy Balance in Humans 167
Ellen E. Blaak
Energy balance 167
Energy intake 167
Energy expenditure 171
Altered sympathetic activity in obesity 178
Substrate oxidation and predisposition to obesity 179
References 181
8 Aetiology of Human Obesity 187
John R. Speakman and David Levitsky
Lifestyle-related obesity 187
Changes in the prevalence of obesity over time 196
Drug-induced obesity 202
Endocrine causes of obesity 204
Specifi c genetic disorders 205
References 208
9 Health Hazards of Obesity: An Overview 215
Ronald C.W. Ma, Gary T.C. Ko, and Juliana C.N. Chan
Measures of obesity as predictors of morbidity and mortality 215
Obesity and premature mortality 217
Cardiovascular disease 221
Type 2 diabetes 225
Malignancy 228
Gall-bladder disease 229
Osteoarthritis 229
Chronic renal failure 230
Ethnic differences in obesity-related predictors of disease 230
Conclusions 231
References 232
10 Metabolic Complications of Obesity 237
Ronald Ma and Juliana Chan
Type 2 diabetes 237
The metabolic syndrome 241
Obesity and insulin resistance 244
Obesity and the development of type 2 diabetes 254
Dyslipidaemia in obesity and the metabolic syndrome 258
References 261
11 Liver Disease in Obesity 273
Nimantha de Alwis and Chris Day
Epidemiology 273
Pathogenesis of NAFLD in obesity 273
Pathology of NAFLD 275
Natural history of NAFLD 275
Clinical presentation 276
Investigation of suspected NAFLD 277
Management of patients with NAFLD 279
References 282
12 Cardiovascular Disease and Obesity 287
Gianluca Iacobellis and Arya M. Sharma
General links between obesity and cardiovascular disease 287
Impact of obesity on the heart 290
Obesity and hypertension 296
Obesity and congestive heart failure 299
Obesity and coronary artery disease 300
Obesity and arrhythmias 300
Cardiac-associated adipose tissue 301
Peripheral vascular disease 304
Cardiovascular disease in 'metabolically healthy obesity' 306
Investigation of cardiovascular disease in obesity 307
Management of cardiovascular disease in obese subjects 308
References 311
13 Obesity and Other Diseases 323
Mimi Chen and Robert Andrews
Musculoskeletal disorders 323
Respiratory system 324
Endocrine system 328
Gastrointestinal tract 336
Obesity and cancer 336
Psychological and psychiatric disorders 339
References 339
14 Social and Psychological Factors in Obesity 347
Andrew J. Hill
Stereotyping of obesity 347
Adult attitudes 349
Social disadvantage 349
Psychological well-being 354
The way forward 359
References 360
15 Assessment and Investigation of Obesity 367
Luc Van Gaal and Ilse Mertens
Causes of obesity 367
Comorbidities and health risks of obesity 370
Practical assessment of obesity 375
Personal history 375
Review of systems 380
Clinical examination 380
Screening investigations 384
Assessment of the overweight patient 385
References 385
16 Managing Obesity: General Approach and Lifestyle Intervention 393
Susanne Wiesner and Jens Jordan
Selection of patients for obesity management 393
Treatment targets 394
Lifestyle modifi cation 398
Physical activity 407
References 411
17 Pharmacological Approaches for Treating Obesity 421
John Wilding
Historical context 421
Defining the effi cacy of anti-obesity drugs 424
Potential targets for intervention 425
Indications for pharmacotherapy in obesity 432
Currently available treatments 433
Use of anti-obesity drugs in children and adolescents 441
Drugs causing weight gain 441
Future directions 441
References 442
18 Surgical Approaches to the Management of Obesity 449
Mervyn Deitel
Rationale of bariatric surgical procedures 449
History of bariatric surgery 449
Bariatric operations in current use 454
General aspects of bariatric surgery 460
Conclusions 464
References 464
19 Special Considerations in Managing Obesity 471
Mimi Chen and Robert Andrews
Managing causes of secondary obesity 471
Management of intercurrent conditions in obesity 474
Managing type 2 diabetes in obese patients 479
Management of IFG and IGT 488
Management of dyslipidaemia 489
Complementary therapies and obesity 490
References 492
20 Eating Disorders in Obesity 499
Susan M. Byrne and Emma R. Dove
Binge eating and binge eating disorder 499
Night eating syndrome 502
Psychopathology associated with BED and NES in obese individuals 502
Body dissatisfaction and preoccupation with weight and shape 503
Assessment and treatment of eating disorders in obese individuals 503
References 505
21 Obesity in Childhood 509
Julian Shield and Carolyn Summerbell
Defining obesity in children 509
Aetiology of childhood obesity 512
Consequences of childhood obesity 520
Investigation and assessment 522
Treatment of childhood obesity 525
Prevention of childhood obesity 531
References 533
22 Prevention of Obesity 543
Tim Lobstein
Primary and secondary obesity prevention 543
Extending the evidence base through future studies 554
Tertiary prevention 554
Cost-effectiveness of obesity prevention strategies 556
Investing in health 557
Inequalities and health promotion 557
Conclusions 558
References 558
23 A Look to the Future 565
Gareth Williams and Gema Frühbeck
Obesity and its fellow-travellers: here to stay 565
More secrets from fat? 566
Energy balance and obesity: signals and noise 567
Managing obesity: must do better 567
Prevention: better than cure, but ... 569
Whose problem is it anyway? 569
Index 571
See More
Gareth Williams
, MD, ScD FRCP Edin, Professor of Medicine, University of Bristol, Southmead Hospital, Bristol, UK.
Gema Fruhbeck, Department of Endocrinology, Clinica Universitaria and Metabolic Research Laboratory, University of Navarra, Spain.
See More