Obesity: science to practice
ISBN: 978-0-470-01911-5
604 pages
April 2009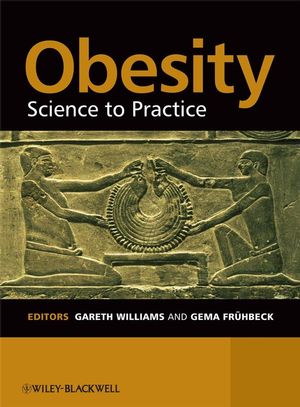 This comprehensive textbook addresses one of the major public health concerns of our era – obesity. Clearly and simply, Obesity: science to practice provides a balanced, coherent account of obesity: how to define and measure it, its epidemiology, the physiological basis, associated diseases, how to assess, manage and treat it, and also strategies for prevention. The book is generously illustrated, including graphs and flow charts for easy reference. The chapters cite key references so that interested readers may pursue a given topic in more detail. Well presented and thoroughly edited by one of the leading experts in the field, this is the textbook of choice for anyone working in obesity.
See More
Preface.
List of Contributors.
1 History of Obesity (George A. Bray).
2 Epidemiology and Social Impact of Obesity (Neville Rigby, Rachel Leach, Tim Lobstein, Rachel Huxley, and Shiriki Kumanyika).
3 Key Methodologies in Obesity Research and Practice (Susan A. Jebb, Alexandra M. Johnstone, Janet Warren, Gail R. Goldberg, and Les Bluck).
4 Adipose Tissue: Development, Anatomy and Functions (Dominique Langin, Gema Frühbeck, Keith N. Frayn, and Max Lafontan).
5 The Regulation of Energy Balance: An Overview (Gareth Williams).
6 Control of Eating (Wolfgang Langhans, Joanne Harrold, Gareth Williams, and Nori Geary).
7 Energy Balance in Humans (Ellen E. Blaak).
8 Aetiology of Human Obesity (John R. Speakman and David Levitsky).
9 Health Hazards of Obesity: An Overview (Ronald C.W. Ma, Gary T.C. Ko, and Juliana C.N. Chan).
10 Metabolic Complications of Obesity (Ronald Ma and Juliana Chan).
11 Liver Disease in Obesity (Nimantha de Alwis and Chris Day).
12 Cardiovascular Disease and Obesity (Gianluca Iacobellis and Arya M. Sharma).
13 Obesity and Other Diseases (Mimi Chen and Robert Andrews).
14 Social and Psychological Factors in Obesity (Andrew J. Hill).
15 Assessment and Investigation of Obesity (Luc Van Gaal and Ilse Mertens).
16 Managing Obesity: General Approach and Lifestyle Intervention(Susanne Wiesner and Jens Jordan).
17 Pharmacological Approaches for Treating Obesity (John Wilding).
18 Surgical Approaches to the Management of Obesity (Mervyn Deitel).
19 Special Considerations in Managing Obesity (Mimi Chen and Robert Andrews).
20 Eating Disorders in Obesity (Susan M. Byrne and Emma R. Dove).
21 Obesity in Childhood (Julian Shield and Carolyn Summerbell).
22 Prevention of Obesity (Tim Lobstein).
23 A Look to the Future (Gareth Williams and Gema Frühbeck).
Index.
See More