Young Men Who Have Sexually Abused: A Case Study Guide
ISBN: 978-0-470-02238-2
258 pages
March 2006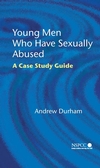 Young men who sexually abuse is a subject of increasing concern amongst professionals.
This important volume explores the current theoretical and practice issues involved in working therapeutically with young men who have sexually abused. Linking theory to practice, Andrew Durham provides detailed case studies of young men who have committed varying acts of inappropriate or harmful sexual behaviours, and analyses the therapeutic interventions provided for each.
Key features of this accessible guide include:
A clear, practical framework for assessing whether or not a child's sexual behaviour is a problem.
Full assessment schedule for determining the risks and needs of young men who have sexually abused.
Discussion of family assessment and support.
Guidance for managing difficult foster placements.
Advice on deciding when a young person is no longer a risk.
Young Men Who Have Sexually Abused identifies the need for therapeutic interventions to be holistic and reach beyond purely offence-specific work. It will be a valuable resource for practitioners, academics and students in social work, social care, psychology and residential childcare.
See More
About the Author.
Foreword by Christine Harrison.
Introduction.
PART 1: Theoretical Context and Initial Practice Issues.
1 A Practice Framework for Holistic Therapeutic Intervention.
2 Assessing Sexual Behaviour.
3 Family Assessment.
4 Foster Care.
PART 2: Therapeutic Intervention with Young Men Who Have Sexually Abused.
5 Assessment and Initial Engagement - Case Study, Neil (15).
6 Exploring Patterns of Behaviour - Case Study, Tony (14).
7 Victim Empathy - Case Study, Alan (15).
8 Sex and Relationships Education - Case Study, Luke (15) and Jon (15).
9 Self-Esteem - Case Study, Mark (9).
10 Relapse Prevention - Case Study, Stephen (9) and Graham (14).
11 Evaluation - Case Study, Carl (14).
Conclusions.
Appendix A - Details of the Sexualised Inappropriate Behaviours Service(SIBS) in Warwickshire.
Appendix B  - Excerpt from Warwickshire Safeguarding Children Board (WSCB) Inter-Agency Child Protection Procedures.
Appendix C - Protocol For Referral Between YOT, Children's Teams and SIBS In Circumstances When Young People Have Committed Sexual Offences.
Appendix D - Young People Who Display Inappropriate Sexual Behaviours – Issues For Schools.
Bibliography.               
Index.
See More
More in this series