Advanced Operations Management, 2nd Edition
ISBN: 978-0-470-02654-0
352 pages
May 2006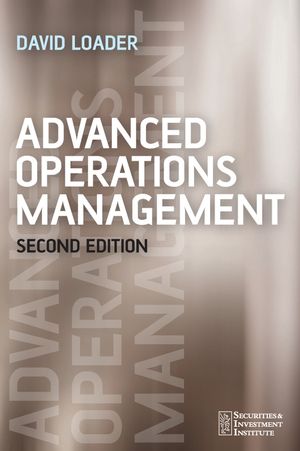 In the fast changing business and financial markets, the role of operations manager is crucially important to any organisation.  As automated processes increase and settlement cycles shorten, the demands on operations managers to embrace change and to become cost effective contributors to the bottom line increases. 
This book follows on from Fundamentals of Global Operations Management, 2e (0470026537).   Author David Loader explores the challenges of being a good supervisor and manager in an environment of constant change, variable workloads and pressure to deliver quality services cost-effectively. He covers the key aspects of the role, which include managing risk, people and clients.
See More
Preface.
About the author.
1 THE CHALLENGE.
2 THE MANAGEMENT PHILOSOPHY.
3 THE MANAGEMENT OF RISK.
4 SECURITIES FINANCING.
5 TREASURY AND FUNDING.
6 RESOURCE MANAGEMENT.
7 TECHNOLOGY IN OPERATIONS.
8 PROCEDURAL DOCUMENTATION–CAPTURING THE KNOWLEDGE BASE.
9 CLIENT MANAGEMENT.
10 MANAGEMENT INFORMATION.
11 OUTSOURCING/INSOURCING OPERATIONS FUNCTIONS.
12 INDUSTRY DEVELOPMENTS.
Appendices.
A FATF DOCUMENTS ON THE FORTY RECOMMENDATIONS.
B FATF–GAFI.
C CONSOLIDATED KYC RISK MANAGEMENT.
Glossary.
List of abbreviations.
Useful websites and suggested further reading.
Index.
See More
David Loader is Managing Director of the London based Derivatives and Securities Consultancy Ltd (DSC). DSC provides various consultancy and educational services to a wide range of financial institutions globally. David has over thirty years' experience in the finance industry, particularly in operations, gained in a number of major organisations including SG Warburg Group where he was Operations Director. He is heavily involved in financial education and training, as a Director of Computer Based Learning Ltd (providing e-learning solutions to the financial services industry), and as an author and presenter of training courses for The Securities and Investment Institute.
David is a member of The International Guild of Bankers, The Institute of Directors and The Securities and Investment Institute.
See More
More in this series