Advanced Operations Management, 2nd Edition
ISBN: 978-0-470-02654-0
352 pages
May 2006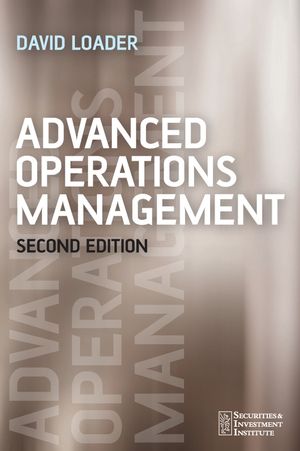 In the fast changing business and financial markets, the role of operations manager is crucially important to any organisation.  As automated processes increase and settlement cycles shorten, the demands on operations managers to embrace change and to become cost effective contributors to the bottom line increases. 
This book follows on from Fundamentals of Global Operations Management, 2e (0470026537).   Author David Loader explores the challenges of being a good supervisor and manager in an environment of constant change, variable workloads and pressure to deliver quality services cost-effectively. He covers the key aspects of the role, which include managing risk, people and clients.
See More
Preface xvii
About the author xix
1 THE CHALLENGE 1
The profile of operations 2
Operations is a business 3
The challenge of change 5
The challenge of management style 7
The challenge of global markets 8
The challenge of personal goals 10
The challenge of dealing with events 10
2 THE MANAGEMENT PHILOSOPHY 13
Reporting lines 19
3 THE MANAGEMENT OF RISK 23
Market risk 26
Characteristics of the products used 27
Management risk 27
Inadequate procedures and controls 27
Information or reporting risk 28
Market or principal risk 28
Credit or counterparty risk 30
Operational risk 31
Means of reducing settlement risk 33
Personnel/HR risk 35
Liquidity risk 36
Systemic risk 37
Financial or treasury risk 38
Technology risk 39
Systems failures 39
Technology awareness 40
Legal risk 40
Regulatory risk 41
Reputation risk 42
Other risks 43
Malicious risk 43
Country risk 43
Understanding risk 45
Controlling risk 45
Strategic controls 46
Management responsibility 48
Role of risk management 49
The risk management process 50
Risk management departments 52
Staff training 55
4 SECURITIES FINANCING 57
What is securities financing? 58
Stock lending 59
Securities lending process flows 64
Loan initiation 65
Delivery of collateral and securities 65
Management of benefits and collateral 65
Return/recall of securities 66
Payment of fees 66
Lending agreement 67
Repurchase agreements (Repos) 67
Collateral 68
Securitisation 70
5 TREASURY AND FUNDING 71
Case study 75
Unsecured borrowing 80
Secured borrowing 81
Money market instruments 83
Derivatives 84
Foreign exchange 84
Treasury settlements 85
Cash management 86
Risk in treasury settlement 88
6 RESOURCE MANAGEMENT 91
Pressures on resource 92
Defining resource 96
Training and developing people 97
Contingency planning 98
Restructuring 101
Training and personal development 103
Succession planning 105
Dealing with people 107
The working environment 110
Managing systems 110
Technical performance 113
Operational performance 114
Difficult people 115
Motivation 117
No motivation means trouble is brewing 120
Performance measurement 120
Management of people 122
7 TECHNOLOGY IN OPERATIONS 127
Timing and resourcing 135
Loss of key personnel 137
Managing the operations function through the project 137
Post-implementation 141
Technology and the future 141
8 PROCEDURAL DOCUMENTATION – CAPTURING THE KNOWLEDGE BASE 143
The historical perspective 144
The benefits of good documentation 145
What is good procedural documentation? 148
In-house or outsource? 150
1 Skill 150
2 Time 151
3 Cost 152
Maintaining, controlling and distributing the documentation 152
9 CLIENT MANAGEMENT 155
Customer relationships 157
The approach to customer relationships and the 'client culture' 160
Know your client 164
General guide to account opening and customer identification 164
Money laundering 178
Defining the service and establishing relationships 178
What is considered as client service? 178
Establishing relationships 179
The manager's role in relationship management 180
Structure of the operations function 182
Responsibility 182
Measuring service levels 184
Escalation procedures 186
Client liaison programmes 187
Front-office client team 188
Industry issues 188
Training the team 189
Analysing competition 189
Developing the service 190
What are the potential problems in customer relationships? 191
Managing risk in the customer relationship 192
Client visits 194
10 MANAGEMENT INFORMATION 197
Information paths 200
Distribution 201
MI production 202
Sourcing data 203
Compilation and validation 204
Production of MI 204
Risks in MI 207
11 OUTSOURCING/INSOURCING OPERATIONS FUNCTIONS 211
Outsourcing 212
Regulation and outsourcing 214
Insourcing 223
12 INDUSTRY DEVELOPMENTS 225
Regulatory changes and T&C 231
Industry recommendation 232
Shortening settlement cycles 232
What else? 233
Bank for International Settlement 233
Securities Industry Association 234
Alternative Investment Management Association 235
International Swaps and Derivatives Association 235
International Securities Markets Association 236
GSCS benchmarks 237
Other industry organisations 237
Remote clearing 237
The G30's 20 recommendations 239
Creating a strengthened, interoperable global network 239
Mitigating risk 240
Improving governance 241
Appendices
A FATF DOCUMENTS ON THE FORTY RECOMMENDATIONS 243
B FATF–GAFI 279
C CONSOLIDATED KYC RISK MANAGEMENT 283
Glossary 297
List of abbreviations 311
Useful websites and suggested further reading 313
Index 315
See More
David Loader is Managing Director of the London based Derivatives and Securities Consultancy Ltd (DSC). DSC provides various consultancy and educational services to a wide range of financial institutions globally. David has over thirty years' experience in the finance industry, particularly in operations, gained in a number of major organisations including SG Warburg Group where he was Operations Director. He is heavily involved in financial education and training, as a Director of Computer Based Learning Ltd (providing e-learning solutions to the financial services industry), and as an author and presenter of training courses for The Securities and Investment Institute.
David is a member of The International Guild of Bankers, The Institute of Directors and The Securities and Investment Institute.
See More
More in this series