Elegance
ISBN: 978-0-470-02968-8
128 pages
March 2007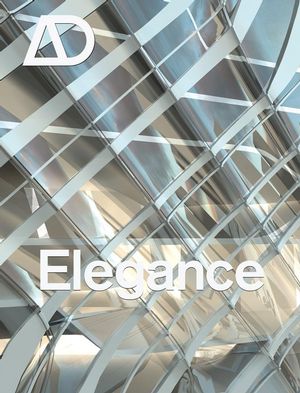 Elegance represents an important watershed in architectural design. Since the onset of computer-driven technologies, innovative designers have, almost exclusively, been preoccupied with the pursuit of digital techniques. This issue of AD extrapolates current design tendencies and brings them together to present a new type of architecture, one that is seamlessly trying processes, space, structure and material together with beauty. 'Elegance' here is cast with a new contemporary meaning as it is applied to work that is effortlessly complex. It is analogous to an elegant algorithm that uses a small amount of initiative code to great effect. In a structure elegance may be expressed by a complex surface that retains its continuity and integrity even when punctured. In many ways, Elegance marks a coming of age for, 'digital architecture', as architects become more adept at producing complexity and integrating digital design technologies, production and assembly systems producing elegant solutions. It is the potent finesse that is often associated with the work of Zaha Hadid Architects and other featured architects, such as Mark Goulthorpe of Decoi and Hani Rashid of Asymptote.
See More
Editorial (
Helen Castle).
Introduction.
Elegance in the Age of DigitalTechnique (Ali Rahim and Hina Jamelle).
Lightness and Fluidity: Remarks Concerning the Aesthetics of Elegance (David Goldblatt).
Material Elegance (Manuel DeLanda).
Frozen Void: The Elegant Affect of the Evolved Object (Kivi Sotamaa).
Arguing for Elegance (Patrik Schumacher).
Surface Continuity: An Elegant Integration (Ali Rahim and Hina Jamelle).
Everything is Curved: The Mercedes-Benz Museum, Stuttgart, Germany (Ben van Berkel and Caroline Bos).
Elegance, Attenuation, Geometry: Herta and Paul Amir Building, Tel Aviv Museum of Art (Preston Scott Cohen).
Beyond the Structural Skin Zaha Hadid Architects: Marsa Dubai Residential Tower (Ali Rahim and Hina Jamelle).
The Economies of Elegance Migrating Coastlines: Residential Tower, Dubai (Ali Rahim and Hina Jamelle).
Performing Elegance (Hani Rashid).
Deus Ex Machina: From Semiology to the Elegance of Aesthetics (Mark Foster Gage).
(K)not a Loop (Meejin Yoon).
Notes on Designing Surficial Elegance (Benjamin H Bratton and Hernan Diaz Alonso).
Fabricating Elegance: Digital Architecture's Coming of Age (Joseph Rosa).
Interior Eye.
Epic Proportions of Gilgamesh (Howard Watson).
Practice Profile.
Weiss/Manfredi Architects (Jayne Merkel).
Building Profile.
Orchard Building, Bedales School (Jeremy Melvin).
Home Run.
New River Village (Bruce Stewart).
McLean's Nuggets (Will McLean).
Site Lines.
Terrence Donnelly Centre for Cellular and Biomolecular Research (Sean Stanwick).
See More
Hina Jamelle
is an architect and co-director of Contemporary Architecture Practice in New York (
www.c-a-p.net
).  Prior to joining the practice in 2002 she was a client partner at Razorfish, a digital media consulting company.  She teaches graduate architecture studios at the Pratt Institute and the University of Pennsylvania, and previously taught at the University of Michigan.  Contemporary Architecture Practice's projects include a wide range and scales of work from product design to high-rises.  Its work was most recently exhibited at the Museum of Modern Art (MoMA), New York, and the Entry 2006 Expo in Essen, Germany.  Past exhibition venues include Artists Space, New York, the Royal Institute of British Architects (RIBA) and the London and Shanghai Architectural Biennales in 2005 and 2006.
Ali Rahim is an architect, associate professor at the University of Pennsylvania, visiting professor at Harvard University, and the 2007 Louis I Khan Visiting Professor at Yale. He is the co-director at Contemporary Architecture Practice, New York (www.c-a-p.net), which has established an award-winning profile in futuristic work using digital design and production techniques. Books include Catalytic Formations: Architecture and Digital Design (Taylor & Francis, 2005), Contemporary Techniques in Architecture (Wiley-Academy, 2002) and AD Contemporary Processes in Architecture (Wiley-Academy, 2000). Contemporary Architecture Practice's projects have been published extensively in the international press including Der Spiegel, the New York Times and the Independent in London. Its work has also been selected in 10x10_2 (Phaidon Press, 2005), and for Architectural Record's Design Vanguard 2004 as one of 11 architectural practices worldwide 'building the future of architecture'.
See More
Learn more about