Clinical Psychology and People with Intellectual Disabilities, 2nd Edition
ISBN: 978-0-470-02972-5
424 pages
April 2012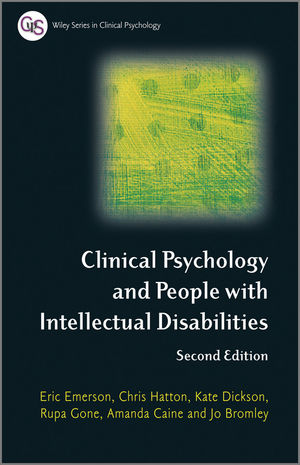 Clinical Psychology & People with Intellectual Disabilities
provides trainee and qualified clinical psychologists with the most up-to-date information and practical clinical skills for working with people with intellectual disabilities.
Represents an invaluable training text for those planning to work with people with intellectual disabilities

Includes coverage of key basic concepts, relevant clinical skills, and the most important areas of clinical practice
All chapters have been fully updated with the latest evidence. New chapters cover working professionally, working with people with autism and addressing aspects of the wider social context within which people with learning disabilities live.
Beneficial to related health and social care staff, including psychiatrists, nurses, and social workers
See More
About the Editors ix
List of Contributors  xi
Preface xiii
Part 1: Setting the Scene  1
Chapter 1 Intellectual Disabilities – Classification, Epidemiology and Causes  3
Chris Hatton
Chapter 2 Service Provision  23
Rupa Gone, Chris Hatton and Amanda Caine
Chapter 3 Social Context  51
Eric Emerson and Rupa Gone
Chapter 4 Cognitive Assessment  63
Isobel Lamb
Chapter 5 Common Legal Issues in Clinical Practice  83
A.J. Holland
Part 2: General Clinical Issues  105
Chapter 6 Interviewing People with Intellectual Disabilities 107
Helen Prosser and Jo Bromley
Chapter 7 Working with People: Direct Interventions 121
Nigel Beail and Andrew Jahoda
Chapter 8 Working with Families  141
Jo Bromley and Christine Mellor
Chapter 9 Working with Organisations or: Why Won't They Follow My Advice?  161
Judith McBrien and Sue Candy
Chapter 10 Reflections on 25 Years Working in the NHS 181
Ian Fleming
Part 3: Working with  203
Chapter 11 Working with People Whose Behaviour Challenges Services  205
Alick Bush
Chapter 12 Working with Offenders or Alleged Offenders with Intellectual Disabilities  235
Glynis H. Murphy and Isabel C.H. Clare
Chapter 13 Sexual Exploitation of People with Intellectual Disabilities  273
Paul Withers and Jennifer Morris
Chapter 14 Working with Parents Who Happen to Have Intellectual Disabilities 293
Sue McGaw
Chapter 15 People with Intellectual Disabilities and Mental Ill-Health  313
D. Dagnan and W.R. Lindsay
Chapter 16 Working with People with Autism  339
Jo Bromley, Elizabeth Crabtree, Christine Mellor and Mary Delaney
Chapter 17 Older Adults with Intellectual Disabilities: Issues in Ageing and Dementia 359
Sunny Kalsy-Lillico, Dawn Adams and Chris Oliver
Index  393
See More
Eric Emerson
is Professor of Disability & Health Research at Lancaster University, UK, and Visiting Professor in the Faculty of Health Sciences at the University of Sydney.
Kate Dickson is a Chartered Clinical Psychologist at the Betsi Cadwaladr University Health Board in North Wales.
Rupa Gone is a Chartered Clinical Psychologist at Hertfordshire Community Health Services in Watford.
Chris Hatton is Professor of Psychology, Health and Social Care, Lancaster University, UK.
Jo Bromley is Consultant Clinical Psychologist, Service Lead for the Clinical Psychology Service for Children with Disabilities, Central Manchester Foundation Hospital Trust.
Amanda Caine is Consultant Clinical Psychologist and Professional Lead for Clinical Psychology, Pennine Care NHS Foundation Trust.
See More
More in this series