E-book
An Introduction to Bond Markets, 3rd Edition
ISBN: 978-0-470-03181-0
432 pages
January 2007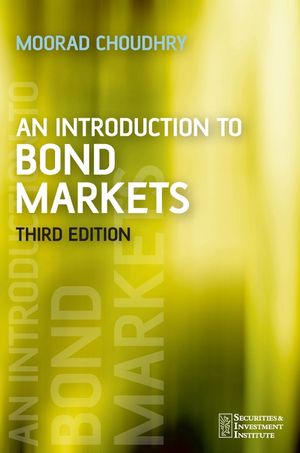 This book describes and defines bonds within the context of the capital markets and the different types of bonds that are traded. It includes a detailed look at the analytical techniques used in the market by traders and fund managers. This new edition will update the section on swaps and risk management, update all exercises and examples, add a new section on credit derivatives, add a section on structured finance securities & add a section on trading. Contents also include: Bond yield Measurement, Interest Rate Risk, The UK gilt market and corporate debt markets, Risk Management, Off-balance sheet instruments, including swaps and options, and Overseas and emerging markets.
See More
Foreword.
Preface.
About the author.
1 INTRODUCTION TO BONDS.
2 THE YIELD CURVE, AND SPOT AND FORWARD YIELDS.
3 BOND INSTRUMENTS AND INTEREST-RATE RISK.
4 REVIEW OF FLOATING-RATE NOTE BOND INSTRUMENTS.
5 THE MONEY MARKETS.
6 THE EUROBOND MARKET.
7 CONVERTIBLE BONDS, MTNs AND WARRANTS.
8 CREDIT RATINGS.
9 INFLATION-LINKED BONDS.
10 AN INTRODUCTION TO SECURITISED BONDS.
11 INTRODUCTION TO DERIVATIVE INSTRUMENTS.
12 INTRODUCTION TO CREDIT DERIVATIVES.
13 APPROACHES TO GOVERNMENT BOND TRADING AND YIELD ANALYSIS.
14 RISK MANAGEMENT.
Bibliography.
Glossary.
List of abbreviations.
Index.
See More
Dr Moorad Choudhry is Head of Treasury at KBC Financial Products in London. He is a Visiting Professor at the Department of Economics, London Metropolitan University, a Visiting Research Fellow at the ICMA Centre, University of Reading, a Senior Fellow at the Department of Mathematical Trading and Finance, Cass Business School, and a Fellow of the Securities and Investment Institute.
See More
More in this series