E-book
The Essentials of Clinical Health Psychology
ISBN: 978-0-470-03260-2
368 pages
February 2006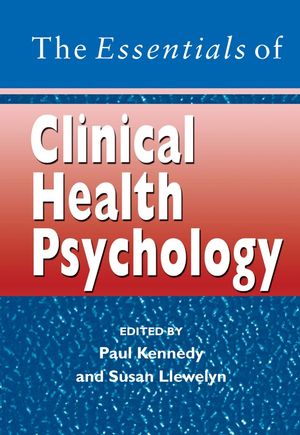 This selection of carefully chosen chapters from the prestigious
Handbook of Clinical Health Psychology
focus on the more practical issues that are of particular relevance to the busy practitioner. It is a well-referenced but practical resource, which provides an authoritative, up-to-date guide to empirically validated psychological interventions in health care.
Informative and practical: a guide to action
An authoritative, critical and evidence based synthesis of knowledge that will guide best practice
Easy-to-use format intended for practitioners who want to ensure their practice is state-of-the-art
See More
About the Editors.
List of Contributors.
Preface.
Acknowledgements.
Chapter 1: Introduction and Overview (Paul Kennedy and Susan Llewelyn).
Chapter 2: Models and Concepts (Cynthia Belar).
Chapter 3: The Person's Experience of Health Care (Paul Kennedy and Susan Llewelyn).
Chapter 4: The Experience of Families and their Carers in Health Care (Timothy R. Elliott and Patricia Rivera).
Chapter 5: Cardiac Conditions (Wolfgang Linden).
Chapter 6: Oncology and Psycho-oncology (Kristin M. Kilbourn and Patricia E. Durning).
Chapter 7: Chronic Pain (Dennis C. Turk and Elena S. Monarch).
Chapter 8: Treatment of Obesity (Michael G. Perri and Joyce A. Corsica).
Chapter 9: Diabetes Mellitus (Suzanne Bennett Johnson and Dawn Newman Carlson).
Chapter 10: Working with Cognitively Impaired Clients (Jeri Morris).
Chapter 11: Spinal Cord Injury (Jane Duff and Paul Kennedy).
Chapter 12: Gynaecology Pauline Slade).
Chapter 13: Accident and Trauma (Gary Latchford).
Chapter 14: Psychological Management for Sexual Health and HIV (Barbara Hedge).
Chapter 15: An Average Old Age: Associations between Ageing, Health and Behaviour (Mary Gilhooly and Eileen McDonach).
Chapter 16: Telehealth Research and Practice: Key Issues and Recent Developments (Robert L. Glueckauf, Treven C. Pickett, Timothy U. Ketterson, Jeffrey S. Loomis and David W. Nickelson).
Chapter 17: Convergence, Integration and Priorities (Paul Kennedy and Susan Llewelyn).
Index.
See More
Paul Kennedy, DPhil, MSc, FBPsS, CPsychol

Dr Paul Kennedy
is Reader in Clinical Psychology at the University of Oxford, Academic Director on the Oxford Doctoral Course in Clinical Psychology, and Head of Clinical Psychology at the National Spinal Injuries Centre, Stoke Mandeville Hospital. He studied at the University of Ulster and Queens University, Belfast, and has worked in clinical health psychology since graduating from his clinical training in 1984. He has established clinical health psychology services in a number of areas.
Dr Kennedy has published over 70 scientific papers for peer-reviewed journals and has been a contributor to a number of book chapters. He is an active researcher with a broad portfolio of research on adjustment, coping and rehabilitation. He serves on the editorial board of the
Journal of Clinical Psychology in Medical Settings, Neurorehabilitation and Rehabilitation Psychology
. He was elected a Fellow of the British Psychological Society in 1999, served on the Committee of the Division of Health Psychology and was made a Supernumerary Fellow of Harris Manchester College, University of Oxford, in 2001. He is founding Chair of the Multidisciplinary Association of Spinal Cord Injury Professionals.
In 2002 he was awarded the Distinguished Service Award by the American Association of Spinal Cord Injury Psychologists and SocialWorkers. He was also awarded the New South Wales Goverment's Spinal Visiting Fellow in 2005.
Susan Llewelyn, PhD, FBPsS
Dr Susan Llewelyn is a Chartered Clinical Psychologist and Fellow of the British Psychological Society. She is currently Course Director on the Oxford Doctoral Course in Clinical Psychology and Honorary Senior Lecturer in Clinical Psychology at the University of Oxford. Dr Llewelyn is also Supernumerary Fellow at Harris Manchester College, University of Oxford. She has held posts as an Academic Psychologist in four UK universities, and has also worked as a Clinical Psychologist in the UK National Health Service for over 20 years.
She has published widely in academic and professional journals, having authored over 90 articles, books, book chapters or papers, and has edited professional journals, as well as a previous text in Health Psychology. She has a particular interest in training and in the promotion of clinical psychology, especially in health care. She has recently held the post of UK Chair of the Committee for Training in Clinical Psychology, and was a member of the Mental Health Act Commission.
See More