Particle Physics, 3rd Edition
ISBN: 978-0-470-03294-7
Paperback
460 pages
December 2008
US $70.00

Add to Cart
This price is valid for United States. Change location to view local pricing and availability.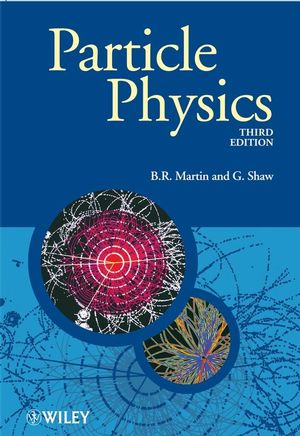 Suggested Short Course Inside Front Cover.
Editors' Preface to the Manchester Physics Series.
Authors' Preface.
Notes.
1 SOME BASIC CONCEPTS.
1.1 Introduction.
1.2 Antiparticles.
1.3 Interactions and Feynman Diagrams.
1.4 Particle Exchange.
1.5 Units and Dimensions.
PROBLEMS 1.
2 LEPTONS AND THE WEAK INTERACTION.
2.1 Lepton Multiplets and Lepton Numbers.
2.2 LeptonicWeak Interactions.
2.3 Neutrino Masses and Neutrino Mixing.
PROBLEMS 2.
3 QUARKS AND HADRONS.
3.1 Quarks.
3.2 General Properties of Hadrons.
3.3 Pions and Nucleons.
3.4 Strange Particles, Charm and Bottom.
3.5 Short-Lived Hadrons.
3.6 Allowed Quantum Numbers and Exotics.
PROBLEMS 3.
4 EXPERIMENTAL METHODS.
4.1 Overview.
4.2 Accelerators and Beams.
4.3 Particle Interactions with Matter.
4.4 Particle Detectors.
4.5 Detector Systems and Experiments.
PROBLEMS 4.
5 SPACE–TIME SYMMETRIES.
5.1 Translational Invariance.
5.2 Rotational Invariance.
5.3 Parity.
5.4 Charge Conjugation.
5.5 Positronium.
5.6 Time Reversal.
PROBLEMS 5.
6 THE QUARK MODEL.
6.1 Isospin Symmetry.
6.2 The Lightest Hadrons.
6.3 Colour.
6.4 Charmonium and Bottomium.
PROBLEMS 6.
7 QCD, JETS AND GLUONS.
7.1 Quantum Chromodynamics.
7.2 Electron–Positron Annihilation.
7.3 Elastic Electron Scattering: The size of the proton.

7.4 Inelastic Electron and Muon Scattering.
7.5 Inelastic Neutrino Scattering.
PROBLEMS 7.
8 WEAK INTERACTIONS: QUARKS AND LEPTONS.
8.1 Charged Current Reactions.
8.2 The Third Generation.
PROBLEMS 8.
9 WEAK INTERACTIONS: ELECTROWEAK UNIFICATION.
9.1 Neutral Currents and the Unified Theory.
9.2 Gauge Invariance and the Higgs Boson.
PROBLEMS 9.
10 DISCRETE SYMMETRIES: C, P, CP AND CPT.
10.1 P Violation, C Violation and CP Conservation.
10.2 CP Violation.
10.3 Flavour Oscillations and the CPT Theorem.
10.4 CP Violation in the Standard Model.
PROBLEMS 10.
11 BEYOND THE STANDARD MODEL.
11.1 Grand Unification.
11.2 Supersymmetry.
11.3 Strings and Things.
11.4 Particle Cosmology.
11.5 Neutrino Astronomy.
11.6 Dirac or Majorana Neutrinos?
PROBLEMS 11.
A RELATIVISTIC KINEMATICS.
A.1 The Lorentz Transformation for Energy and Momentum.
A.2 The Invariant Mass.
A.3 Transformation of the Scattering Angle.
PROBLEMS A.
B AMPLITUDES AND CROSS-SECTIONS.
B.1 Rates and Cross-Sections.
B.2 The Total Cross-Section.
B.3 Differential Cross-Sections.
B.4 The Scattering Amplitude.
B.5 The Breit–Wigner Formula.
PROBLEMS B.
C THE ISOSPIN FORMALISM.
C.1 Isospin Operators.
C.2 Isospin States.
C.3 Isospin Multiplets.
C.4 Branching Ratios.
C.5 Spin States.
PROBLEMS C.
D GAUGE THEORIES.
D.1 Electromagnetic Interactions.
D.2 Gauge Transformations.
D.3 Gauge Invariance and the Photon Mass.
D.4 The Gauge Principle.
D.5 The Higgs Mechanism.
D.6 Quantum Chromodynamics.
D.7 Electroweak Interactions.
PROBLEMS D.
E TABLES OF PARTICLE PROPERTIES.
E.1 Gauge Bosons.
E.2 Leptons.
E.3 Quarks.
E.4 Low-lying Baryons.
E.5 Low-lying Mesons.
F SOLUTIONS TO PROBLEMS.
References.
Index.
Physical Constants, Conversion Factors and Natural Units.