E-book
An Introduction to Value-at-Risk, 4th Edition
ISBN: 978-0-470-03377-7
192 pages
January 2007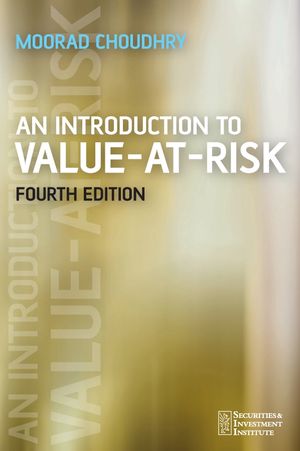 The value-at-risk measurement methodology is a widely-used tool in financial market risk management. The fourth edition of Professor Moorad Choudhry's benchmark reference text An Introduction to Value-at-Risk offers an accessible and reader-friendly look at the concept of VaR and its different estimation methods, and is aimed specifically at newcomers to the market or those unfamiliar with modern risk management practices. The author capitalises on his experience in the financial markets to present this concise yet in-depth coverage of VaR, set in the context of risk management as a whole.
Topics covered include:
Defining value-at-risk
Variance-covariance methodology
Monte Carlo simulation
Portfolio VaR
Credit risk and credit VaR
Topics are illustrated with Bloomberg screens, worked examples, exercises and case studies. Related issues such as statistics, volatility and correlation are also introduced as necessary background for students and practitioners. This is essential reading for all those who require an introduction to financial market risk management and value-at-risk.
See More
Foreword.
Preface.
Preface to the First Edition.
About the Author.
1. Introduction to Risk. 
2. Volatility and Correlation.
3. Value-At-Risk.
4. Value-At-Risk and Fixed Interest Instruments.
5. Options: Risk and Value-At-Risk.
6. Monte Carlo Simulation and Value-At-Risk.       
7. Regulatory Issues and Stress-Testing.
8. Credit Risk and Credit Value-At-Risk.
Case Study and Exercises.
Appendix: Taylor's Expansion.
Abbreviations.
Selected Bibliography.
Index.
See More
Dr. Moorad Choudhry is Head of Treasury at KBC Financial Products in London. He is a Visiting Professor at the Department of Economics, London Metropolitan University, a Visiting Research Fellow at the ICMA Centre, University of Reading, a Senior Fellow at the Centre for Mathematical Trading and Finance, Cass Business School, and a Fellow of the Securities and Investment Institute.
See More
More in this series