Operations and Production Systems with Multiple Objectives
ISBN: 978-0-470-03732-4
1114 pages
February 2014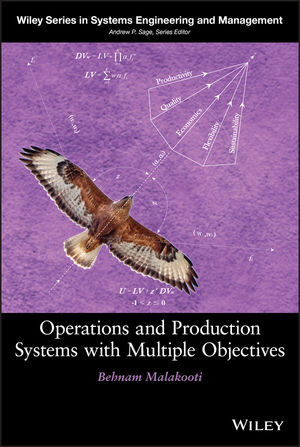 The first comprehensive book to uniquely combine the three fields of systems engineering, operations/production systems, and multiple criteria decision making/optimization
Systems engineering is the art and science of designing, engineering, and building complex systems—combining art, science, management, and engineering disciplines. Operations and Production Systems with Multiple Objectives covers all classical topics of operations and production systems as well as new topics not seen in any similiar textbooks before: small-scale design of cellular systems, large-scale design of complex systems, clustering, productivity and efficiency measurements, and energy systems.
Filled with completely new perspectives, paradigms, and robust methods of solving classic and modern problems, the book includes numerous examples and sample spreadsheets for solving each problem, a solutions manual, and a book companion site complete with worked examples and supplemental articles.
Operations and Production Systems with Multiple Objectives will teach readers:
How operations and production systems are designed and planned
How operations and production systems are engineered and optimized
How to formulate and solve manufacturing systems problems
How to model and solve interdisciplinary and systems engineering problems
How to solve decision problems with multiple and conflicting objectives
This book is ideal for senior undergraduate, MS, and PhD graduate students in all fields of engineering, business, and management as well as practitioners and researchers in systems engineering, operations, production, and manufacturing.
See More
OPERATIONS SYSTEMS AND DECISION MAKING
1 Introduction 1
2 Multicriteria Decision Making 49
PRODUCTION AND OPERATIONS PLANNING
3 Forecasting 145
4 Aggregate Planning 213
5 Push-and-Pull (MRP/JIT) Systems 265
6 Inventory Planning and Control 313
SCHEDULING AND PROJECT MANAGEMENT
7 Scheduling and Sequencing 381
8 Project Management 439
SUPPLY CHAIN AND ENERGY SYSTEMS
9 Supply Chain and Transportation 499
10 Productivity and Efficiency 547
11 Energy System Design and Operation 579
CELLULAR SYSTEMS AND CLUSTERING
12 Clustering and Group Technology 643
13 Cellular Layouts and Networks 717
14 Assembly Systems 777
FACILITY LAYOUT AND LOCATION
15 Facility Layout 803
16 Location Decisions 861
QUALITY, RELIABILITY, AND MEASUREMENT
17 Quality Control and Assurance 903
18 Work Measurement 973
19 Reliability and Maintenance 1009
See More
BEHNAM MALAKOOTI, PhD, PE, is Professor of Systems Engineering in the Electrical Engineering and Computer Science Department of Case Western Reserve University. His current research is in the areas of complex decision making, optimization, and production/manufacturing. He designed intelligent protocols for NASA's space-based networks. He has published over 100 technical journal articles and has consulted with numerous industries and corporations, including General Electric, Parker Hannifin, and BFGoodrich. He is a Fellow of the IEEE, IIE, and SME, and in 1997, he was named Engineer of the Year and also Technical Educator of the Year.
See More
More in this series