Vampire: The Requiem For Dummies
ISBN: 978-0-470-03745-4
352 pages
October 2006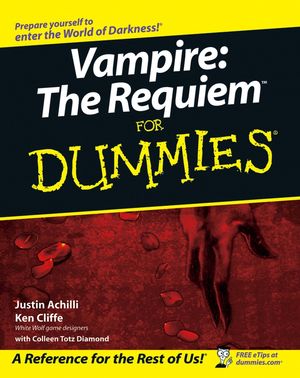 Includes tips on characters and storylines for storytellers



Develop your character, understand the World of Darkness, and play today!

Vampire lore has intrigued ordinary mortals for centuries. Sink your teeth into this book and find out how to slip into their mysterious, mystical world! Create the vampire of your dreams (or nightmares), choose attributes, skills, and advantages, understand the characteristics of each clan, enter the World of Darkness -- and throw away the garlic.

Discover how to
* Calculate your character's advantages and Blood Potency
* Set the mood for the game
* Select a clan and a covenant for your character
* Explore sources of inspiration
* Master the art of storytelling
See More
Introduction.
Part I: Introducing Vampire: The Requiem.
Chapter 1: Preparing to Play Vampire: The Requiem.
Chapter 2: Creating a Character.
Chapter 3: Playing the Game.
Part II: Choosing a Clan.
Chapter 4: Starting Out as a Daeva.
Chapter 5: Playing Clan Gangrel.
Chapter 6: Beginning as a Mekhet.
Chapter 7: Stepping Out as a Nosferatu.
Chapter 8: Becoming Clan Ventrue.
Part III: Creating Your Own Vampire.
Chapter 9: Imagining Your Character.
Chapter 10: Picking Your Character's Attributes.
Chapter 11: Selecting Your Character's Skills.
Chapter 12: Choosing Your Character's Disciplines.
Chapter 13: Determining Your Character's Advantages.
Chapter 14: Identifying Your Character's Merits.
Part IV: Stepping into the Night.
Chapter 15: Entering the World of the Undead.
Chapter 16: Rising to the Long Night.
Chapter 17: Exploring the Kindred Covenants.
Part V: Mastering the Art of Storytelling.
Chapter 18: Setting the Stage.
Chapter 19: Crafting Stories.
Chapter 20: Introducing Antagonists.
Chapter 21: Gaining Experience.
Part VI: The Part of Tens.
Chapter 22: Ten Best Ways to Defeat a Vampire.
Chapter 23: Ten Best Haven Locations.
Chapter 24: Ten Best Foes of Vampires.
Chapter 25: Ten Best Blood Magic Spells.
Chapter 26: Ten Best Vampire Game Books.
Part VII: Appendix.
Appendix.
Character Sheet.
Index.
See More
Justin Achilli
is a 20-plus-year veteran of hobby gaming and a 10-year veteran of game design. His career with White Wolf Game Studio began in 1995, during which Justin has developed both
Vampire: The Requiem
and its predecessor,
Vampire: The Masquerade
. He has worked on over 100
Vampire
titles, written an Origins Award–nominated novel for the World of Darkness, and contributed to the
Werewolf, Mage, Wraith, Changeling, Scarred Lands,
and
Ravenloft
game lines. Justin enjoys pro football, reading anything he can get his hands on, and nightclub DJing.
Ken Cliffe has been in the game industry in one form or another for over 20 years. He was one of the first White Wolf employees, brought on as a fulltimer in 1991 after years spent helping out with the one-time White Wolf Magazine. Ken has been involved in most everything White Wolf has published, from Ars Magica to the World of Darkness. He was developer of Hunter: The Reckoning and helped shepherd the relaunch of the WoD with a new Storytelling System core rulebook and Vampire: The Requiem.
Colleen Totz Diamond is a freelance writer and editor who has been a fan of "Dummies the books" since 1993, when she was first introduced to the series. She lives in Connecticut with her husband, her cat, and her husband's four betta fish (and about 30 . . . For Dummies books).
See More