Ubuntu Linux Bible
ISBN: 978-0-470-03899-4
936 pages
January 2007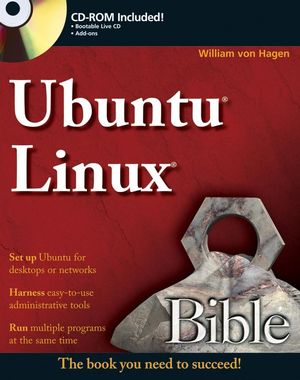 Everything you need to know—and then some!
It's the fastest-growing, coolest Linux distribution out there, and now you can join the excitement with this information-packed guide. Want to edit graphics? Create a spreadsheet? Manage groups? Set up an NFS server? You'll learn it all and more with the expert guidance, tips, and techniques in this first-ever soup-to-nuts book on Ubuntu. From the basics for newcomers to enterprise management for system administrators, it's what you need to succeed with Ubuntu.
Master the fundamentals for desktop and networks
Send e-mail, share files, edit text, and print
Download music, watch DVDs, and play games
Use Ubuntu on laptops, go wireless, or synch it with your PDA
Set up Web, mail, print, DNS, DHCP, and other servers
Manage groups and secure your network
What's on the CD-ROM?

Test-drive Ubuntu on your computer without changing a thing using the bootable Ubuntu Desktop Live CD included with this book. If you decide to install it permanently, a simple, easy-to-use installer is provided. Also on the CD, you'll find:
Popular open-source software for Microsoft(r) Windows(r), such as AbiWord, Firefox(r), GIMP, and more
An easy-to-use application that simplifies installing these programs on your Microsoft Windows system
System Requirements: Please see the "About the CD-ROM Appendix" for details and complete system requirements.
Note: CD-ROM/DVD and other supplementary materials are not included as part of eBook file.
See More
Acknowledgments.
Introduction.
Part I: Getting Started with Ubuntu Linux.
Chapter 1: The Ubuntu Linux Project.
Chapter 2: Installing Ubuntu.
Chapter 3: Installing Ubuntu on Special-Purpose Systems.
Part II: Ubuntu for Desktop Users.
Chapter 4: Basic Linux System Concepts.
Chapter 5: Using the GNOME Desktop.
Chapter 6: Using Command-Line Tools.
Chapter 7: Working with Text Files on Ubuntu.
Chapter 8: Reading and Sending Mail with Evolution.
Chapter 9: Surfing the Web with Firefox.
Chapter 10: Creating and Publishing Documents.
Chapter 11: Other Office Software: Spreadsheets and Presentations.
Chapter 12: Working with Graphics.
Chapter 13: Working with Multimedia.
Chapter 14: Would You Like to Play a Game?
Chapter 15: Connecting to Other Systems.
Chapter 16: File Transfer and Sharing on Ubuntu.
Chapter 17: Consumer Electronics and Ubuntu.
Chapter 18: Software Development on Ubuntu.
Part III: Ubuntu for System Administrators.
Chapter 19: Understanding the Ubuntu Startup and Shutdown Processes.
Chapter 20: Adding, Removing, and Updating Software.
Chapter 21: Managing Users, Groups, Authentication, and Advanced Permissions.
Chapter 22: Backing Up and Restoring Files.
Chapter 23: Adding Hardware and Attaching Peripherals.
Chapter 24: Network Configuration and Security.
Chapter 25: Going Wireless.
Part IV: Configuring Servers on Ubuntu.
Chapter 26: Setting Up a Web Server.
Chapter 27: Setting Up a Mail Server.
Chapter 28: Setting Up a DHCP Server.
Chapter 29: Setting Up a DNS Server.
Chapter 30: Setting Up a Print Server.
Chapter 31: Setting Up an NFS Server.
Chapter 32: Setting Up a Samba Server.
Index.
See More
William von Hagen (Bill) has been a Unix system administrator for over twenty years, and a Linux fanatic since the early 1990s. He has worked as a Linux product manager, systems programmer, system administrator, writer, application developer, drummer, and content manager. Bill has written or co-written books on such topics as Linux Server Hacks, Linux Filesystems, SUSE Linux, Red Hat Linux, GCC, SGML, Mac OS X, and Hacking the TiVo. He has also written numerous articles on Linux, embedded computing, Mac OS X, Unix, and various Open Source topics. An avid computer collector specializing in workstations, he owns more than 200 computer systems but is not compulsive at all. You can reach him at vonhagen@vonhagen.org.
See More