Markets in Profile: Profiting from the Auction Process
ISBN: 978-0-470-03909-0
224 pages
February 2007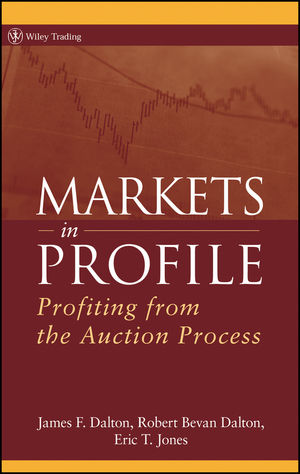 Markets in Profile explores the confluence of three disparate philosophical frameworks: the Market Profile, behavioral finance, and neuroeconomics in order to present a unified theory of how markets work. The Market Profile is an ever-evolving, multidimensional graphic that gives visual form to the market's continuing auction process, revealing the myriad underlying dynamics that influence market activity. Behavioral finance posits that investors are driven more by emotional factors and the subjective interpretation of minutia than by "rationality" when making investment decisions. And neuroeconomics is the study of how investor psychology permeates and affects the financial markets. Mr. Dalton explicates the ways in which irrational human behavior influences the market's natural auction process, creating frequently predictable market structure, which results in opportunities for investors to ameliorate risk. The book will improve investors ability to interpret change in markets, enabling better, more confident investment decisions.
See More
Preface.
Acknowledgments.
CHAPTER 1 The Only Constant.
The Creation of ERISA.
The Rise and Fall of Relative Performance.
The Fall of the Great Bull.
The Rise of Absolute Return.
Succeeding in an Absolute Return Market Environment.
Pure, Unbaised Information.
People Change Markets, Markets Change People.
CHAPTER 2 Information.
Fundamental Information.
Rational or Irrational?
Market-Generated Information.
The Auctions.
Fair Value.
Market Profile Fundamentals.
Authors' Note.
Demystifying Market Behavior.
CHAPTER 3 Timeframes.
Breaking Down Market Timeframes.
Scalper.
Day Trader.
Short-Term Traders.
Intermediate Traders/Investors.
Long-Term Investors.
Your Timeframe Is your Strategy Cornerstone.
CHAPTER 4 Auctions and Indicators.
The Search for Value.
Concept Review.
Key Market-Generated Indicators.
Perfecting the Art of Visualization.
CHAPTER 5 Long-Term Auctions.
Auctions in Action.
The Compound-Auction Process.
The EBB and Flow of Balance.
Where Do Trends End and Brackets Begin?
Clarity in the Maelstrom.
The Big Picture.
Asymmetric Opportunities and Risk.
Long-Term Strategy Development.
Assembling the Big Picture: Context within Context.
CHAPTER 6 Intermediate-Term Auctions.
Convergence and the Bracketing Process.
Defining the Intermediate Term.
The Transition from Bracket to Trends.
The Transition from Trend to Bracket.
The Convergence of Intellect and Emotion.
Accelerate the Learning Process.
Prelude to a Sea Change.
Hear the Bells A-Ringing.
Countertrend Auctions.
The Quest to Do Better than "Normal."
Oh, the Difference a Few Points Makes.
CHAPTER 7 Short-Term Trading.
Analyzing Short-Term Markets.
Common Mind Traps.
When and Where to Look for Short-Term Trades.
Opportunities Around Intermediate-Term Brackets.
Technical Indicators.
Your Own Worst Enemy: Your Brain.
Seeking the "Exceptionally Tasty Patterns."
All Prices and Opportunities Are Not Equal.
Ongoing Forensic Investigation.
Looking for the All-Important Reference Points.
Never Be a Laggard.
A Golden Opportunity.
Fade the Extremes, Go with Breakouts.
"The Expert Reasons Contextually."
CHAPTER 8 Day Trading Is for Everyone.
What's a Day Trader to Do?
What You Don't Do May Be More Important than What You Do.
The Real World in Action.
Top Down.
Lack of Conviction.
Flight to Safety.
Inventory Imbalances.
Correction of Inventory Imbalances.
Trend Traders' Trap.
Market Condition.
Yesterday's Trade.
Example 1.
Example 2.
Example 3.
Trader Checklist.
The Market Is Open.
Open-Drive.
Open-Test-Drive.
Open-Rejection-Reverse.
Open-Auction.
Day Trader's Checklist.
Example 1.
Example 2.
Example 3.
Practice, Practice, Practice.
CHAPTER 9 Profiting from Market-Generated Information.
Timeframe Diversification.
The New Paradigm.
Appendix A: Market Update.
About the Authors.
Index.
See More
JAMES F. DALTON
has been a pioneer in the popularization of the Market Profile, a unique method of identifying trading/investment opportunities. Most recently, Mr. Dalton was director of research for managed accounts at UBS Financial Services. He began his career in the investment industry as a broker with Merrill Lynch and Shearson Lehman.
ROBERT BEVAN DALTON is a freelance writer and creative director for a variety of agencies, organizations, and nonprofits in the great northwest.
ERIC T. JONES has observed markets and investors throughout his twenty-three years of developing investment products and leading investment manager research teams.
See More
More in this series
Learn more about