IT Disaster Recovery Planning For Dummies
ISBN: 978-0-470-03973-1
388 pages
December 2007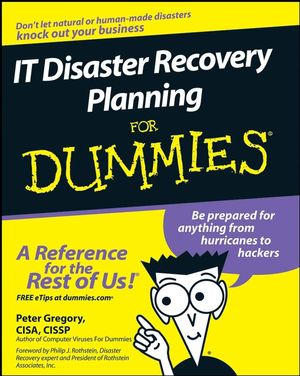 If you have a business or a nonprofit organization, or if you're the one responsible for information systems at such an operation, you know that disaster recovery planning is pretty vital. But it's easy to put it off. After all, where do you start?
IT Disaster Recovery Planning For Dummies shows you how to get started by creating a safety net while you work out the details of your major plan. The right plan will get your business back on track quickly, whether you're hit by a tornado or a disgruntled employee with super hacking powers. Here's how to assess the situation, develop both short-term and long-term plans, and keep your plans updated.
This easy-to-understand guide will help you
Prepare your systems, processes, and people for an organized response to disaster when it strikes
Identify critical IT systems and develop a long-range strategy
Select and train your disaster recovery team
Conduct a Business Impact Analysis
Determine risks to your business from natural or human-made causes
Get management support
Create appropriate plan documents
Test your plan
Some disasters get coverage on CNN, and some just create headaches for the affected organization. With IT Disaster Recovery Planning For Dummies, you'll be prepared for anything from hackers to hurricanes!
See More
Foreword xix

Introduction 1

Part I: Getting Started with Disaster Recovery 7

Chapter 1: Understanding Disaster Recovery 9

Chapter 2: Bootstrapping the DR Plan Effort 29

Chapter 3: Developing and Using a Business Impact Analysis 51

Part II: Building Technology Recovery Plans 75

Chapter 4: Mapping Business Functions to Infrastructure 77

Chapter 5: Planning User Recovery 97

Chapter 6: Planning Facilities Protection and Recovery129

Chapter 7: Planning System and Network Recovery 153

Chapter 8: Planning Data Recovery 173

Chapter 9: Writing the Disaster Recovery Plan 197

Part III: Managing Recovery Plans 215

Chapter 10: Testing the Recovery Plan 217

Chapter 11: Keeping DR Plans and Staff Current241

Chapter 12: Understanding the Role of Prevention 263

Chapter 13: Planning for Various Disaster Scenarios 285

Part IV: The Part of Tens 305

Chapter 14: Ten Disaster Recovery Planning Tools307

Chapter 15: Eleven Disaster Recovery Planning Web Sites 315

Chapter 16: Ten Essentials for Disaster Planning Success323

Chapter 17: Ten Benefits of DR Planning331

Index 33
See More
Peter H. Gregory, CISA, CISSP, is the author of fifteen books on security and technology, including Solaris Security (Prentice Hall), Computer Viruses For Dummies (Wiley), Blocking Spam and Spyware For Dummies (Wiley), and Securing the Vista Environment (O'Reilly).
Peter is a security strategist at a publicly-traded financial management software company located in Redmond, Washington. Prior to taking this position, he held tactical and strategic security positions in large wireless telecommunications organizations. He has also held development and operations positions in casino management systems, banking, government, non-profit organizations, and academia since the late 1970s.
He's on the board of advisors for the NSA-certified Certificate program in Information Assurance & Cybersecurity at the University of Washington, and he's a member of the board of directors of the Evergreen State Chapter of InfraGard.
See More