E-book
The Early Childhood Education Intervention Treatment Planner
ISBN: 978-0-470-04008-9
240 pages
April 2006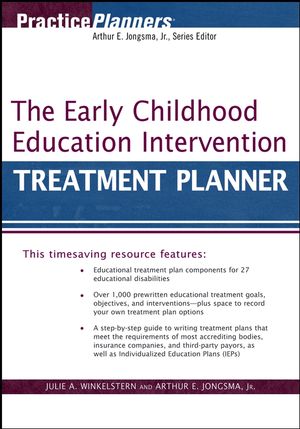 The Early Childhood Education Intervention Treatment Planner
provides all the elements necessaryto quickly and easily develop formal education treatment plans that take the educational professional a step further past the writing of goals for Individualized Education Plans (IEPs) as well as mental health treatment plans. The educational treatment plan process assists the professional in identifying interventions and communicating to others the specific method, means, format, and/or creative experience by which the student will be assisted in attaining IEP goals.
Critical tool for treating the most common problems encountered in treating children ages 3-6
Saves you hours of time-consuming paperwork, yet offers the freedom to develop customized educational treatment plans
Organized around 27 main presenting problems, including autism, cultural and language issues, depression, eating and elimination concerns, cognitive and neurological impairment, oppositional behavior, school entry readiness, and others
Over 1,000 well-crafted, clear statements describe the behavioral manifestations of each relational problem, long-term goals, short-term objectives, and educational interchange
Easy-to-use reference format helps locate educational treatment plan components by disability
Includes a sample treatment plan that conforms to the requirements of most third-party payors and accrediting agencies (including HCFA, JCAHO, and NCQA)
See More
Practice
Planners®
Series Preface.
Acknowledgements.
Introduction.
Aggressive Behavior.
Articulation / Voice Concerns.
Attachment Concerns.
Attention / Focus.
Autism.
Depression.
Eating Concerns.
Elimination Concerns.
Expressive Language Delay.
Generalized Anxiety.
Hearing Deficits / Deafness.
Medically Fragile.
Mild Cognitive Delays.
Moderate / Severe Cognitive Impairment.
Oppositional Behavior.
Physical Impairment.
Receptive Language Delay.
School Entry Readiness.
Sensory Integration Needs.
Separation Anxiety.
Shyness / Social Phobia.
Sleep Issues.
Social Skills Delay.
Vision Deficits / Blindness. 
Appendix A:  Parent Bibliography.
Appendix B:  Professional Bibliography.
See More
ARTHUR E. JONGSMA
, Jr., PhD, is Series Editor for the bestselling PracticePlanners®. Since 1971, he has provided professional mental health services to both inpatient and outpatient clients. He managed a group private practice for twenty-five years and now is the Executive Director of Life Guidance Services in Grand Rapids, Michigan.
JULIE A. WINKELSTERN, MA, EdS, is a special education administrator and a school psychologist in Grand Rapids, Michigan. She is coauthor of The Special Education Treatment Planner.
See More