Small Business Cash Flow: Strategies for Making Your Business a Financial Success
ISBN: 978-0-470-04097-3
224 pages
October 2006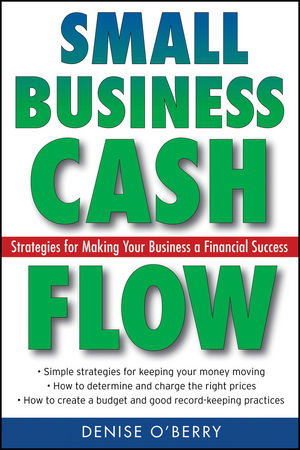 Many small business owners don't understand the importance of maintaining a healthy cash flow. More than anything else, cash flow determines the success or failure of a small business. Small Business Cash Flow covers all the basics of cash flow, from selecting a great accountant, to keeping money flowing in and out of the business, to budgeting and record-keeping.
See More
About the Author.
Preface.
Chapter 1. Understanding Cash Flow-Your Number-One Priority.
Chapter 2. Your Business Partner-The Accountant.
Chapter 3. How Money Works in Your Business.
Chapter 4. Finding and Keeping Cash in Your Business.
Chapter 5. Record Keeping Isn't Drudge Work; It's Priceless History.
Chapter 6. Charging the Best Price to Keep Your Business Healthy.
Chapter 7. Using Your Hidden Cash Resources to Grow Your Business.
Chapter 8. Marketing-Your Cash Generator.
Chapter 9. Resources.
Recommended Reading.
Web Sites to Visit.
Index.
See More
DENISE O'BERRY is an entrepreneur who helps small business owners set priorities and take action to grow their businesses. She speaks to professional organizations, writes the "Just for Small Business" column, hosts the "Minding Your Own Business" online forum for small business owners, and leads Small Business Matters, an exclusive members-only club. She is frequently published and appears as an expert on small business issues on a variety of television and radio programs.
See More