Mac OS X Leopard Bible
ISBN: 978-0-470-04174-1
Paperback
953 pages
March 2008
US $34.99

Add to Cart
This price is valid for United States. Change location to view local pricing and availability.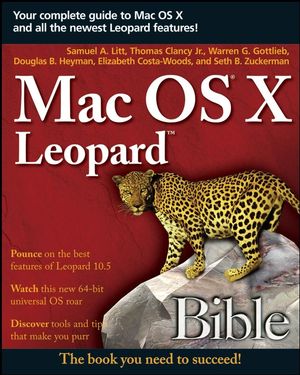 Other Available Formats:
E-book
Samuel A. Litt
is an Apple Certified Technical Coordinator as well as a certified member of the Apple Consultants Network. He is a certified SonicWall security administrator, a Qlogic certified systems administrator, and is certified in Xsan and Avid Unity Storage Area Networks as well. He currently serves as the manager of Macintosh support for the Department of Information Technology and Telecommunications for the City of New York. His works published to date include the
Mac OS X Administration Basics Exam Cram Study Guide
, the
Mac OS X Bible
Panther and Leopard Editions, as well as several articles for Element K's
Mac Administrator Journal
and Quark's
X-RAY
magazine.
Elizabeth Costa-Woods has been working with Macs for over 10 years and is an Apple certified technical coordinator. She is currently a Macintosh systems administrator for the City of New York. Before working for the City, she worked for the City Volunteer Corp., Cause Effective, and the Nathan Cummings Foundation. Elizabeth currently lives in New Jersey with her husband and two children.
Thomas Clancy, Jr. is one of the four co-owners of Valiant Technology Inc., a consulting and support company in New York City, along with Douglas Heyman, Gene McMurray, and Georg J. Dauterman. Tom attended Queens College (CUNY) and received his bachelor's degree in European history and secondary education. Tom currently lives in Putnam County, New York (aka Ice Station Zebra) with his wife, Alice, and their two sons, Jack and Theodore. Tom would like to point out that he is not related to "the" Tom Clancy, although he is proud to be related to another Tom Clancy: his dad, a retired veteran of the FDNY (which is a more important job than "World Famous Author" no matter how you slice it, although the pay isn't as good, sadly).
Douglas Heyman is a longtime Mac user, having cut his teeth on the venerable System 6 on an SE with two 800K floppies and 1MB of memory. Early in his career, he worked as a writer and managing editor of numerous literary projects. Shifting his professional focus to one of his main loves, technology, he spent the next few years as in-house IT staff for a major New York advertising agency. He currently works as a founding partner and vice president of Valiant Technology, a New York-based technology solutions provider. Born and raised in New Jersey, he resides in Hoboken with his loving wife, Suzanne, and his wondrous son, Marcus.
Warren Gottlieb is a professional Mac IT consultant who has transformed a deeply rooted passion and hobby into his profession. He has worked with a number of the top Macintosh tech firms in New York City, and currently works with DeepTech, Inc., home to Manhattan's finest Mac specialists. Warren is pursuing his studies at the City University of New York's Hunter College. Despite many solitary Mac-hours, Warren most enjoys interacting with people, and loves to aid in their comfort and enjoyment of technology. Warren resides in Queens, New York, in a home where the ratio of Macs to humans is 3:1, and where AirTunes plays well into the early hours of the morning.
Seth B. Zuckerman is founder and president of Expert CC, LLC, a premier full-service Macintosh consulting firm based in sunny Long Beach, NY, servicing the Tri-State area. Expert CC's focus is the support and service of industries tasked with multimedia and digital arts content creation. Seth is an Apple certified technical coordinator as well as a certified SonicWall security administrator, holding Apple XSAN, Apple Desktop repair, and Apple Portable repair certifications.