Covered Calls and LEAPS -- A Wealth Option: A Guide for Generating Extraordinary Monthly Income
ISBN: 978-0-470-04470-4
229 pages
November 2006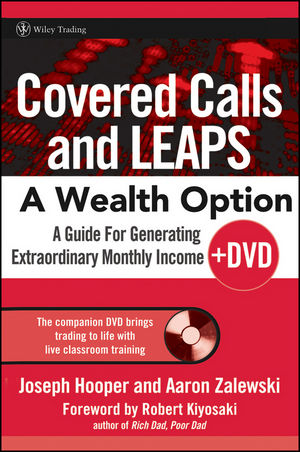 In this one-of-a-kind "how-to" guide, Joseph Hooper and Aaron Zalewski provide step-by-step instructions for generating large monthly cash returns from almost any stock investment—while at the same time decreasing the risk of stock ownership. Filled with in-depth insights and proven techniques, this book is the definitive, rule-based guide to covered calls and calendar LEAPS spreads.
See More
Foreword vii
Preface ix
CHAPTER 1 An Introduction to Options 1
PART I Covered Calls 21
CHAPTER 2 An Introduction to Covered Calls 23
CHAPTER 3 Entering New Covered Call Positions 33
CHAPTER 4 Management Rules 59
CHAPTER 5 Defensive Techniques 75
PART II Calendar LEAPS Spreads 115
CHAPTER 6 An Introduction to Calendar LEAPS Spreads 117
CHAPTER 7 Entering New LEAPS Positions 123
CHAPTER 8 Management Rules 147
CHAPTER 9 Defensive Techniques 165
CONCLUSION How to Move Forward 177
APPENDIX A Quick Reference Guide 179
APPENDIX B Foreign Exchange Risk 197
APPENDIX C Brokerages and Order Types 201
APPENDIX D Using ETFs and HOLDRs for Diversification 205
APPENDIX E Compound Stock Earnings Support Services 207
Glossary 211
Disclaimer and Legal Information 217
About the DVD 221
Index 223
See More
Joseph Hooper
has been a property developer, stockbroker, and bank owner. He is the founder of Compound Stock Earnings and is now a financial educator, radio talk show host, and one of the world's foremost experts on covered calls. In the early 1980s, Hooper formed a bank holding company, purchased banks, directed their operations, and then sold them in the early 1990s. Later, he joined Merrill Lynch as a private client advisor, using his covered calls technique for client accounts.
Aaron Zalewski has a background in the finance industry, where he worked as an analyst within the investment banking industry. Zalewski left that profession to pursue a career as a full-time investor and is now Director at Compound Stock Earnings. He also cohosts Compound Stock Earnings' weekly financial talk-back radio program, Unconventional Wi$dom—The CSE Investment Show.
See More
More in this series
Learn more about