Advertising For Dummies, 2nd Edition
ISBN: 978-0-470-04583-1
336 pages
January 2007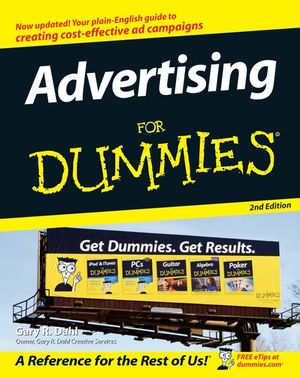 So, you need to create an advertising campaign that brings in more customers, adds more dollars to your bottom line, and validates all the reasons you went into business in the first place. But how can you make your ad look and sound like champagne if your budget can only afford beer? Are you wasting your time trying to sell ice to an Eskimo?
The world of advertising can seem like a daunting place—but it doesn't have to be. Advertising for Dummies coaches you through the process and shows you how to:
Identify and reach your target audience
Define and position your message
Get the most bang for your buck
Produce great ads for every medium
Buy the different media
Create buzz and use publicity
Research and evaluate your competition
Advertising for Dummies offers newbies a real-world look at the ins and outs of advertising—from online and print to TV, radio, and outdoor formats—to show you how you can easily develop and execute a successful campaign on any budget. Plus, you'll find a glossary of common buzzwords you may encounter along the way so you can talk the talk like the advertising guru you (almost) are! With simple tips on how to write memorable ads and timeless lessons from the legends, this book is packed with everything you need to have people from New York to Los Angeles whistling your jingle.
See More
Introduction 1
Part I: Advertising 101 7
Chapter 1: Advertising: Mastering the Art of Promotion 9
Chapter 2: Setting and Working within Your Advertising Budget 19
Chapter 3: Boosting Your Budget with Co-Op Programs 33
Chapter 4: Defining and Positioning Your Message 41
Chapter 5: Forming an Effective Ad Campaign 53
Part II: Creating Great Ads for Every Medium 71
Chapter 6: Online Advertising: Maximizing the Enormous Reach of the Internet 73
Chapter 7: Using Print Ads: Small Spaces with Big Audiences 95
Chapter 8: Radio: Effective, Affordable, and Fun 107
Chapter 9: Demystifying TV Commercials: They Don't Have to Win Awards to Be Effective 123
Chapter 10: Collateral Advertising and Direct Mail: Brochures, Flyers, Newsletters, and More 139
Chapter 11: Opting for Outdoor Ads: Billboards, Posters, Ads on Buses, and Other Signage 159
Part III: Buying the Different Media 173
Chapter 12: Investing in Internet Advertising 175
Chapter 13: Buying Ad Space in Print Media 187
Chapter 14: Purchasing Ad Time on the Radio 199
Chapter 15: Getting Your Ads on Television 215
Chapter 16: Deciding Whether to Hire an Ad Agency 233
Part IV: Beyond the Basics: Creating Buzz and Using Publicity 245
Chapter 17: Creating Buzz and Word-of-Mouth Advertising 247
Chapter 18: Leveraging Your Advertising with Public Relations, Publicity, Specialty Items, and Events 257
Part V: The Part of Tens 279
Chapter 19: Ten Secrets for Writing Memorable Advertising 281
Chapter 20: (Almost) Ten Ways to Know It's Time to Hire an Agency 287
Glossary 293
Index 297
See More
Gary Dahl is an award-winning copywriter, creative director, and advertising agency owner in California's Silicon Valley. He is also the creator of the sensational Pet Rock.
See More