Trump-Style Negotiation: Powerful Strategies and Tactics for Mastering Every Deal
ISBN: 978-0-470-04586-2
288 pages
September 2006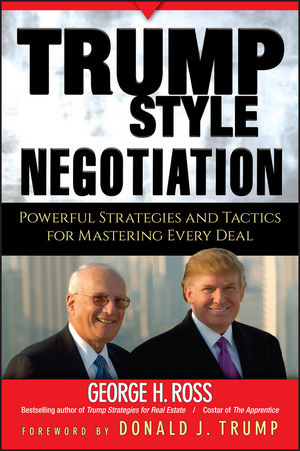 Ever since he wrote The Art of the Deal, Trump has been the world's most famous negotiator—even though he didn't reveal his actual deal-making secrets. Now, George Ross explains the tactics that too Trump to the top and how you can use those same tactics and strategies in your daily negotiations. A practical, real-world negotiation playbook, this is the ultimate guide for anyone who wants to negotiate like a proven winner.
See More
Foreword by Donald J. Trump.
Introduction: How I Became Donald Trump's Negotiator.
Chapter 1: What Is Negotiation...Really?
PART I: KEYS TO NEGOTIATING LIKE DONALD TRUMP.
Chapter 2: Hone Your Personality: Build Trust, Friendship, and Satisfaction with the Other Side.
Chapter 3: Probe to Learn What the Other Side Wants, Flush Out Weaknesses, and Uncover Important Information.
Chapter 4: Be a Master Salesman: Create Bold Solutions to Problems and Convince the Other Side They're Getting More Than They Ever Expected.
Chapter 5: Control the Place of the Negotiation: Use Timing, Deadlines, Delays, and Deadlocks to Your Advantage.
Chapter 6: Harness the Power of Human Nature: Psychological Negotiating Tactics.
Chapter 7: Information is Power: Become the Expert on the Topic You're Negotiating.
Chapter 8: Keep Multiple Solutions in Mind: Remain Flexible and Creative About What You Need and Want.
Chapter 9: Win Through Discipline: The Deal Book, We-They List, Post Checklist, and Other Powerful Planning Tools.
PART II: STRATEGIES FOR SPECIAL SITUATIONS.
Chapter 10: Power Negotiating Tactics and Countermeasures.
Chapter 11: Negotiating with Difficult People.
Chapter 12: Get Tough Strategies...and When to Use Them.
Chapter 13: Dos and Dont's of Skilled Negotiators.
Chapter 14: Telephone and E-Mail Negotiation Tips.
Chapter 15: When to Use Nonbinding Letters of Intent or Memoranda of Understanding.
Chapter 16: The Most Intricate Deal I Ever Negotiated.
Chapter 17: Six Tactics for Iincreasing Your Power in a Negotiation.
Index.
See More