Get Rich With Options: Four Winning Strategies Straight from the Exchange Floor
ISBN: 978-0-470-04661-6
240 pages
January 2007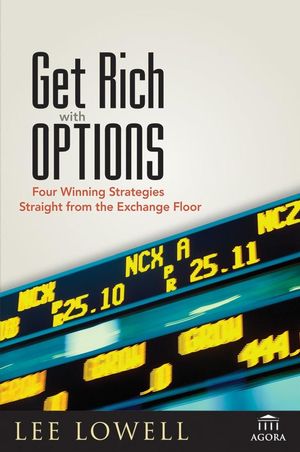 In order to survive and thrive in today's financial markets, you must seriously consider the use of options in your investment endeavors. Options allow you to reap the same benefits as an outright stock or commodity trade, but with less risk and less money on the line. The truth is, you can achieve everything with options that you would with stocks or commodities at less cost while gaining a much higher percentage return on your invested dollars.
After numerous years as a market maker in the trenches of the New York Mercantile Exchange, few analysts know how to make money trading options like author Lee Lowell. In this well-rounded resource, Lowell shows both stock and commodity option traders exactly what works and what doesn't.
Filled with in-depth insight and expert advice, Get Rich with Options provides you with the knowledge and strategies needed to achieve optimal results within the options market. The book quickly covers the basics how options are priced, strike price selection, the use of Delta, and using volatility to one's advantage before moving on to the four options trading strategies that have helped Lowell profit in this arena time and again: buying deep-in-the-money call options, selling naked puts, selling option credit spreads, and selling covered calls. Using these strategoes decisively, he says, is the fastest route to riches in the options trading game.
Get Rich with Options is packed with real-life examples of actual trades and detailed discussions of how options can be used as a hedging, speculating, or income-producing tool. You'll learn how to set up a home business with the best options trading software, tools, and Web sites. And you'll begin to see options in a whole new light and discover how to become part of a small group of investors who consistently win.
See More
Preface.
Acknowledgments.
PART ONE: THE OPTION BASICS.
Chapter 1. It's All about the Calls and Puts.
Chapter 2. How Options Are Priced.
Chapter 3. Option Volatility.
Chapter 4. Stocks versus Options.
Chapter 5. Why Option Selling Is Y our Key to Success.
PART TWO: THE STRATEGIES.
Chapter 6. Buy All the Stock You Want for Half the Price.
Chapter 7. Getting Paid to Buy Your Favorite Stock.
Chapter 8. Option Credit Spreads: The All-Star Strategy.
Chapter 9. A Day in the Life of the Maker.
Chapter 10. Put Your Stocks to Work-Sell Covered Calls.
Chapter 11. A Bonus Strategy: Ratio Option Spreads.
PART THREE: GETTING READY TO TRADE.
Chapter 12. Tools of the Trade.
Chapter 13. Brokers and Commissions.
Conclusion.
Index.
See More
Lee Lowell is an options trading expert for Mt. Vernon Research, a subsidiary of Agora Publishing, and is recognized as one of America's leading options professionals. Lowell has spent fifteen years in the options trenches, first as a market maker on the floor of the New York Mercantile Exchange (NYMEX) and, more recently, as head of his own trading business. Lowell is also the editor of The Delta Force Trader for Mt. Vernon Research and coeditor of Agora's Accelerated Profits Report and The Smart Options e-Report. He's had numerous articles published in leading financial magazines, including Futures and Technical Analysis of Stocks and Commodities.
See More