Windows Vista: The L Line, The Express Line to Learning
ISBN: 978-0-470-04693-7
517 pages
March 2007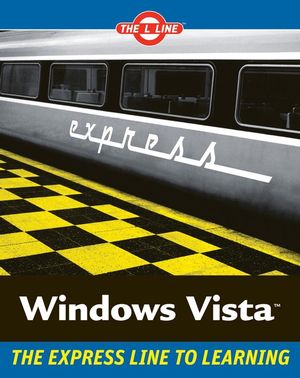 Get on the fast track to mastering Vista


Want to join the move to Microsoft's new Windows Vista? Whether it's for home or business, you can make the transition painlessly with this easy-to-follow guide. Gain solid skills as you progress from station to station in a series of clear-cut tutorials on new Vista tools. Learn how to customize your desktop, go wireless, set security, and more. The last stop? Become a Vista power user and see where you can go. Start the journey today on The L Line.
* Select the right Vista edition or upgrade for your needs
* Browse the new interface
* Master indexing, searching, and security in Vista
* Create CDs, DVDs, and file libraries

All aboard for valuable online extras

Visit the L Line Web site at www.wiley/com/go/thelline for valuable online supplementary materials:
* Test bank with challenging review questions
* PowerPoint(r) slides with chapter outlines
* Practice exam answers

Along The L Line
* Complete tutorial coverage
* Ample illustrations and examples
* Real-world applications and hints for avoiding pitfalls
* Practice exams that help you evaluate your progress
See More
Preface.
Chapter 1: Installing Windows Vista.
Chapter 2: Using the Windows Vista Desktop.
Chapter 3: Welcome to Internet Explorer 7.
Chapter 4: Security, Privacy, and Parental Controls in Windows Vista.
Chapter 5: Working More Efficiently with Applications, Files, and Folders.
Chapter 6: Working with Vista's Free Tools.
Chapter 7: Connecting to the Outside World.
Chapter 8: Adding (And Removing) Additional Programs and Devices with Vista.
Chapter 9: Working with Digital Media.
Chapter 10: Maximizing Your Windows Power and Performance.
Chapter 11: Keeping Up, Backing Up, Disaster and Recovery.
Chapter 12: Getting Help and Support.
Appendix A: The Practice Exam Answers.
Index.
See More
Michael Meskers is Professor of Technology at New York City's New School University, where he has taught for the past ten years. He also has many years of experience as an Executive Coach and holds certifications in Management and Seminar facilitation. His eclectic background as teacher, lecturer, linguist, and well-traveled student (having worked and studied for significant periods in four countries) brings a unique global sensibility to his take on the latest in digital technology.
See More
Students will learn how to:
Customize their desktops.
Mastering their browser's tools and tricks.
Set permissions for users, monitor children's online activities, block unwanted content, and kill spam and fishing.
Get free tools and other bundled software:
Connect to the outside world: Set up Internet connections, People Near Me, home and office networking, and e-mail.
Maximize their computer's power and performance
See More
Download Title
Size
Download
Download PowerPoint slides
This .ppt file requires Microsoft PowerPoint to view. If your computer is unable to view PowerPoint files, you can download the free reader from Adobe.
9.90 MB
Click to Download
Download review questions
this Word document requires Microsoft Word to view. If your computer is unable to view Word document's, you can download the free reader from Microsoft.
87.00 KB
Click to Download
See More
More in this series
Learn more about