Drawing and Perceiving: Real-World Drawing for Students of Architecture and Design, 4th Edition
ISBN: 978-0-470-04716-3
248 pages
January 2007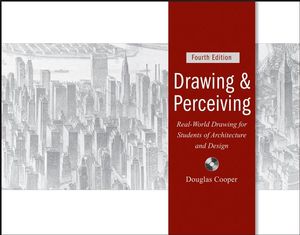 A complete guide to drawing, perception, and analysis for architects and designers

The observation and drawing of real objects are the starting points for the designer's visionary constructions and inspirations. A longtime favorite of architectural students, Douglas Cooper's Drawing and Perceiving: Real-World Drawing for Students of Architecture and Design instills an understanding of the basic principles of drawing that are universal to all design disciplines-mass, volume, form, contour, texture, shadow, and more-as it explores the knowledge, rational thought, and expressiveness that designers rely on to create successful drawings.

Now including a CD featuring Cooper's own dynamic instruction, this new Fourth Edition combines theory and technique to prepare students of architecture and design to carry on a dialogue between their perceptions of the physical world and their understanding of the elements of design.
See More
Preface.
Acknowledgments.
Chapter 1. Engaging the Visual World.
Chapter 2. The Order of Appearance.
Chapter 3. When Order is Made.
Appendix A. Perspective: Office Method.
Appendix B. Perspective: One-Point Magic Method.
Appendix C. Shadow Projection in Orthographic Views.
Appendix D. Shadow Projection in Perspective Views.
Bibliography.
Glossary.
Index.
About the CD-Rom.
See More
DOUGLAS COOPER is the Andrew Mellon Professor of Architecture at Carnegie Mellon University in Pittsburgh, where he has been awarded the Henry Hornbostel Teaching Award. He is also an internationally known artist whose panoramic murals can be found in locations across the United States and Europe.
See More
Now includes a CD-ROM, containing nearly three hours of video instruction linked directly to exercises in the book, enabling students and self-learners alike to read, watch, and then draw for themselves.
See More
Covers all aspects of drawing from figure drawing and freehand drawings to detailed constructions in perspective and axonometry in one comprehensive volume
Uniquely covers both perception and technique
Encourages the reader to use powers of imitation, analysis, and rational thought in order to create successful drawings
Dozens of exercises throughout the book encourage readers to replicate the concepts explained, and in turn, become more proficient in both figure drawing and constructed drawing
See More
Instructors Resources
Request a print evaluation copy
Contact us

See More
See Less
Learn more about