E-book
Near-Infrared Spectroscopy in Food Science and Technology
ISBN: 978-0-470-04769-9
480 pages
September 2006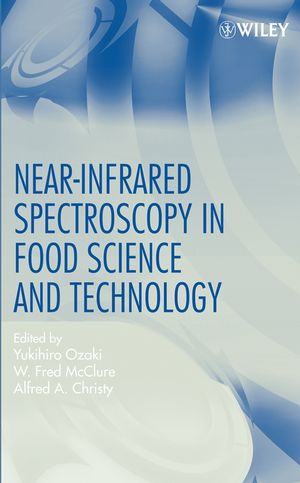 This reference gives food science professionals a working understanding of near-infrared spectroscopy (NIRS) and its role in maximizing food potential. It explains the technical aspects of NIRS, including: basic principles; characteristics of the NIR spectra; instrumentation; sampling techniques; and chemometrics. The book details applications of NIRS in agricultural and marine products, foodstuffs and processed foods, engineering and process monitoring, and food safety and disease diagnosis.
See More
Preface.
Acknowledgments.
Contributors.
Chapter 1: Introduction (W. Fred McClure).
Chapter 2. Principles of Molecular Vibrations for Near-Infrared Spectroscopy (C. Sandorfy, R. Buchet, and G. Lachenal).
Chapter 3: Spectral Analysis (Yukihiro Ozaki, Shigeaki Morita, and Yiping Du).
CHAPTER 4: INSTRUMENTATION.
4.1. Instruments (W. F. McClure and Satoru Tsuchikawa).
4.2. Time-of-Flight Spectroscopy (Satoru Tsuchikawa and W. Fred McClure).
4.3. NIR Imaging and its Applications to Agricultural and Food Engineering (E. Neil Lewis, Janie Dubois, and Linda H. Kidder).
Chapter 5: Sampling Techniques (Satoru Tsuchikawa).
Chapter 6: Latent-Variable Analysis of Multivariate Data in Infrared Spectrometry (Alfred A. Christy and Olav M. Kvalheim).
CHAPTER 7: APPLICATIONS TO AGRICULTURAL AND MARINE PRODUCTS.
7.1. Grains and Seeds (Phil Williams).
7.2. Fruits and Vegetables (Sirinnapa Saranwong and Sumio Kawano).
7.3. Meat and Fish Products (Tomas Isaksson and Vegard H. Segtnan).
CHAPTER 8: APPLICATIONS TO FOODSTUFFS.
8.1. Flours and Breads (Brian G. Osborne).
8.2. Cereal Foods (Sandra E. Kays and Franklin E. Barton, II).
8.3. Livestock Animal By-Products (D. Cozzolino).
8.4. Dairy Products (R. Giangiacomo and T.M.P. Cattaneo).
CHAPTER 9: OTHER TOPICS.
9.1. Fermentation Engineering (Takuo Yano).
9.2. On-Line Analysis in Food Engineering (Kathryn A. Lee).
9.3. Disease Diagnosis Related to Food Safety in Dairy (Roumiana Tsenkova).
INDEX.
See More
YUKIHIRO OZAKI
, PHD, is a Professor in the Department of Chemistry at Kwansei Gakuin University, Sanda, Japan. He is also a coeditor of the books Near-Infrared Spectroscopy: Principles, Instruments, Applications and Two-Dimensional Correlation Spectroscopy: Applications in Vibrational and Optical Spectroscopy, both published by Wiley.
W. FRED MCCLURE, PHD, is Professor Emeritus in the Department of Biological and Agricultural Engineering at North Carolina State University, Raleigh, North Carolina.
ALFRED A. CHRISTY, PHD, is a Professor scholarship holder in Chemistry at the Faculty of Mathematics and Sciences, Agder University College, Kristiansand, Norway.
See More