E-book
Linux For Dummies, 7th Edition
ISBN: 978-0-470-04793-4
422 pages
July 2006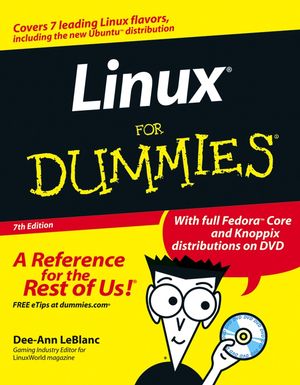 Thinking about switching to Linux but find the prospect too daunting? Many people think it takes years of practice to become a Linux user. Actually, only takes a few tries to become fluent in the system and take advantage of all of its capabilities!
Linux For Dummies, 7th Edition shows you the ins and outs that you need to master in order to build a smoothly functioning Linux system—and gives you the know-how and confidence to use it. This easy-to-read guide walks you through installation, using tools, securing systems, and more. Providing a general overview of the program as well as basic instructions, you'll have the tools you need to:
Install and configure Linux
Connect to the internet
Browse the Web with Firefox
Manipulate files and directories
Understand and use the Linux filesystem
Download and install software to Linux
Choose a secure password
Work without the GUI
View and edit text files
Take full advantage of OpenOffice.org
Control and use your multimedia
Packed with troubleshooting tips and steps for recovering data with Knoppix, along with a bonus DVD that includes full Fedora Core and Knoppix distributions and ISO images of Linspire, Five-O, SUSE Xandros, ad Mandriva, Linux For Dummies, 7th Edition is the authoritative reference to this classic system!
See More
Introduction.
Part I: Getting Your Feet Wet.
Chapter 1: Getting Acquainted with Linux.
Chapter 2: Prepping Your Computer for Linux.
Chapter 3: Installing Fedora Core.
Chapter 4: Installing Other Linux Distributions.
Chapter 5: Booting and Stopping Linux.
Chapter 6: Checking Out Those Desktops.
Chapter 7: Configuring Linux.
Part II: Internet Now!
Chapter 8: Connecting to the Internet.
Chapter 9: Using the Internet.
Part III: Getting Up to Speed with Linux.
Chapter 10: Manipulating Files and Directories.
Chapter 11: Checking Out the Linux Filesystem.
Chapter 12: Adding Software to Linux.
Chapter 13: A Secure Linux Box Is a Happy Linux Box.
Chapter 14: Working without the GUI.
Chapter 15: Gettin' Gooey with the GUIs.
Part IV: Getting Things Done.
Chapter 16: Putting the X in Text.
Chapter 17: Word Processing and More with OpenOffice.org.
Chapter 18: Multimedia Wow!
Chapter 19: Windows-Only Media Formats and Programs.
Part V: The Part of Tens.
Chapter 20: Ten Troubleshooting Tips.
Chapter 21: Two Knoppix Ten-Steps.
Part VI: Appendixes.
Appendix A: Common Linux Commands.
Appendix B: About the DVD-ROM.
Index.
See More
Dee-Ann LeBlanc, RHCE (Red Hat Certified Engineer), is a writer, course developer, journalist, and trainer who specializes in Linux. While these various professions may sound scattered, they in fact reinforce one another by allowing her to see what people are doing with Linux in the real world and where they need help. She is the Linux Games editor for the Linux Journal, the Desktop editor for LinuxToday.com, and is the author of numerous books on Linux and other computer topics. Dee-Ann has also been a regular contributor to Computer Power User magazine for two years, writing this publication's Linux content.
When Dee-Ann isn't teaching, developing course materials, writing technical nonfiction or fantasy fiction, interviewing interesting people, chatting about Linux online or at conferences, or trying in one way or another to save the world, she hikes with her dogs and experiments on her husband Rob with new recipes. See the latest that Dee-Ann's up to and join her readers' mailing list at www.Dee-AnnLeBlanc.com and http://dee-ann.blog-city.com/. Contact Dee-Ann at dee@renaissoft.com.
See More