E-book
Professional MOM 2005, SMS 2003, and WSUS
ISBN: 978-0-470-04801-6
550 pages
August 2006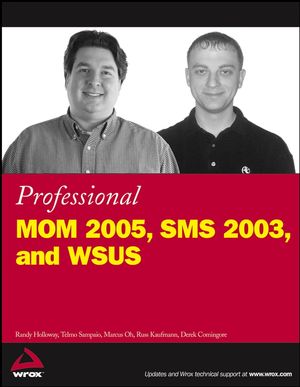 Professional MOM 2005, SMS 2003 and Microsoft Update provides a single source for IT administrators to understand how these systems and operations management technologies can be used in their environments. It also serves as a comparative tool that helps readers understand which tool is right for which job.
It is designed and written for anyone who is involved with implementing, supporting, or managing a set of tools for systems and operations management, including IT operators, IT administrators, IT infrastructure managers and system architects. The readers that have some background in systems and operations management will probably get the most of this book, however no specific level of skill or knowledge is assumed. The writing is aimed at readers who have a basic understanding of IT infrastructure on the Windows platform and have familiarity with Windows XP (and earlier) client deployments and Windows Server technologies.
Some of the topics covered include:
basics of operations management
how the MOM 2005, SMS 2003 and other update technologies fit together
installing and deploying MOM
installing and deploying SMS
installing and deploying MU and WSUS
configuring and administering the MOM environment with MOM and alert tuning
MOM and SMS agents
Deploying and using MOM management packs
Third party management packs
Security and patching with MOM and SMS
Monitoring and security MOM and SMS deployments
MOM and SMS reporting
Microsoft System Center Solutions
Note: CD-ROM/DVD and other supplementary materials are not included as part of eBook file.
See More
Introduction.
Chapter 1: The Basics of Operations Management.
Chapter 2: MOM, SMS, and WSUS: How They Fit Together.
Chapter 3: Installing Microsoft Operations Manager 2005.
Chapter 4: Installation of SMS.
Chapter 5: Installing and Configuring Microsoft Update and Windows Server Update Services.
Chapter 6: MOM Configuration and Administration.
Chapter 7: MOM and SMS Agents.
Chapter 8: Management Packs and Components.
Chapter 9: Management Pack Drilldown for Windows Server.
Chapter 10: More on Management Packs.
Chapter 11: Third-Party Management Packs and Product Connectors.
Chapter 12: Using SMS and MOM to Manage Security and Patching.
Chapter 13: Monitoring.
Chapter 14: Securing Your MOM, SMS, WSUS, and WU Installation.
Chapter 15: Reporting.
Chapter 16: System Center and the Dynamic Systems Initiative.
Appendix A: MOM Management Packs and Utilities.
Index.
See More
Randy Holloway
works for Microsoft Corporation as a technology specialist in the US Central Region. Prior to joining Microsoft, Randy worked in various software development and technology architecture roles; he has written a number of articles on software and systems development on the Microsoft platform. His blog is located at http://randyh.wordpress.com.
Telmo Sampaio is an IT consultant and trainer with 14 years of experience dealing with Microsoft, IBM, and Symantec technologies. He has worked for companies such as Microsoft and IBM. Telmo has been involved in medium to large network infrastructure projects, security audits, database implementations, and application development. Telmo works as a Senior Technical Training Consultant for Signal Learning in Indiana. In his spare time, he plays Xbox and reads with his kids.
Marcus Oh, a senior administrator and architect, has been leading initiatives in systems management technologies for a private telecommunications company since 1999. He is a columnist for myITforum.com and has had articles published in TechTarget newsletters as well as the book Windows Server Hacks. Marcus has been recognized by Microsoft with the Most Valuable Professional award in Windows Server Management since 2004. To get a glimpse of Marcus's latest reflections, visit his blog at http://marcusoh.blogspot.com.
Russ Kaufmann, MCSE+I, MCT, and MVP, is a consultant, speaker, trainer, technical editor, and author. He has been working in IT for more than 15 years and has worked with both small clients and large clients spanning multiple countries. He specializes in Microsoft server products with special emphasis placed on Exchange, IIS, SharePoint Portal Server, and, of course, MOM. He currently works for Infocrossing, an infrastructure outsourcing company, in their Broomfield, Colorado, office.
Derek Comingore is the software development manager for Hosting.com. He holds the MCAD/MCDBA Microsoft certifications, the Carnegie Mellon Personal Software Process (PSP) credential, and an AAS/BS in Computer Information Systems. In addition to his role for Hosting.com, Derek enjoys writing articles for Hosting.com's newsletter and has written his first article for MSDN (soon to be published) on leveraging SQL Server 2005 Service Broker to obtain real-time ETL. He is also starting up a new SQL Server community, www.sqlserver360.org, which promises to deliver a rich and rewarding experience for the SQL Server professional.
See More