The Not-for-Profit CEO Textbook and Workbook Set
ISBN: 978-0-470-05085-9
504 pages
March 2006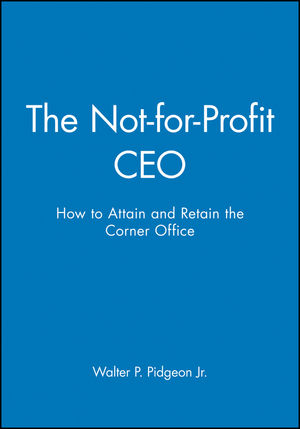 Make your move toward the top
Based on research conducted with the support of the American Society of Association Executives (ASAE) involving more than 100 not-for-profit CEOs, as well as the author's professional background, The Not-for-Profit CEO serves as both an authoritative reference guide and a practical workbook. In addition to sample tables, forms, and checklists, it offers case studies of leading not-for-profit CEOs, complete with illuminating interviews that enable readers to understand and implement the proven steps destined to get them to the top seat of any not-for-profit organization.
Order your copy today!
See More
WALTER P. PIDGEON Jr., PhD, is President and Chief Executive Officer of the U.S. Sportsmen's Alliance—U.S. Sportsmen's Foundation, headquartered in Columbus, Ohio, with government affairs offices in Washington, D.C. He is a seasoned not-for-profit leader, having served in a number of key professional positions, including chief executive officer at four national organizations. He is also a nationally recognized consultant in the areas of administration, strategic thinking, volunteer management, government affairs, and fundraising. A prolific writer and researcher on a variety of subjects, he's the author of The Legislative Labyrinth: A Map for Not-for-Profits and The Universal Benefits of Volunteering, both published by Wiley.
See More