Heavy Hitter Sales Wisdom: Proven Sales Warfare Strategies, Secrets of Persuasion, and Common-Sense Tips for Success
ISBN: 978-0-470-05231-0
272 pages
September 2006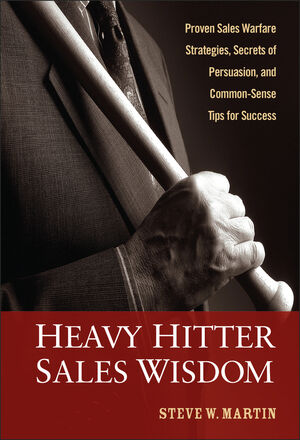 Praise for Heavy Hitter Sales Wisdom
"Steve Martin takes a much-needed look at how successful executives read verbal and nonverbal messages, which allows them to quickly understand the subtext of their customers' minds. The best part is that the author shares effective strategies that put more fun into selling and more money into salespeople's pockets."
—Gerhard Gschwandtner Founder and Publisher, Selling Power magazine
"Steve Martin's interesting examination of great leaders in history and the parallels he draws between waging a war and waging a sales campaign should be required reading for enterprise salespeople."
—Jay Fulcher, Chief Executive Officer, Agile Software
"This powerful book provides real-world strategies you can use to increase sales immediately!"
—Brian Tracy, President, Brian Tracy International, author, Getting Rich Your Own Way
"Heavy Hitter Sales Wisdom goes beyond the traditional description of sales cycles to the heart of selling. It's about the emotional connection with the customer, but also the attack and destruction of the competition."
—Olivier Helleboid, Vice President, Software Operations, Hewlett-Packard
"Heavy Hitter Sales Wisdom provides field sales generals and sales soldiers with tons of strategy, persuasion techniques, and common-sense approaches to winning the hearts and minds of prospects. This book will add new weapons to your arsenal."
—Tim Kelliher, Senior Vice President, Sales, DHL Global Mail
See More
Introduction: Strategy, Persuasion, and Common Sense—the Three Parts of Sales Wisdom.
Part One Sales Warfare Strategies.
CHAPTER 1 The Grand Strategy of War.
The Changing Nature of Sales.
The Indirect Strategy.
The Seven Principles of the Indirect Strategy.
The Indirect Strategy in Sales.
Closing Thoughts.
CHAPTER 2 Battlefield Tactics.
Grand Strategy, Battles, and Battlefield Maneuvers.
Charting Your Position.
Battlefield Tactics Based on Position.
Individual Battlefield Tactic Case Study.
Company Battlefield Tactic Case Study.
Closing Thoughts.
CHAPTER 3 The Five Steps to Victory.
Step 1—Set the Tempo.
Step 2—Focus on Human Nature (Winning Hearts and Minds).
Step 3—Enlist Spies.
Step 4—Understand How the Objective Is Organized.
Step 5—Go After the Leaders.
Conclusion.
Part Two Secrets of Persuasion.
CHAPTER 4 Real Persuasion.
Decision Making 101.
Speak to Each Person Individually.
Speak with Compassion.
Speak with Congruence.
Connect with the Senses.
Tell Stories to Illustrate Complex Ideas.
Conclusion.
CHAPTER 5 Meeting of the Minds.
Connecting with Minds.
Why George Bush Won the 2004 Presidential Election.
Balanced Communicators.
The Subconscious Decision Maker.
The Different Types of Persuasion.
The Persuasive Corporate Sales Presentation.
Organizing the Presentation.
Conclusion.
Part Three Common-Sense Tips.
CHAPTER 6 Common-Sense Selling.
Cesspool.
Who Are You?
Price.
Seven Reasons Why Indy Race Car Driving Is Like Sales.
Don't Panic.
Peer Pressure.
Lessons Learned.
The Fantasy of Spam.
Cliffs Notes.
Exaggerators, Sandbaggers, and Heavy Hitters.
The Seven Deadly Sins of Salespeople.
Go, Fight, Win!
Five Questions to Ask after a Loss.
Are You Contagious?
Always Follow Your Intuition.
Boy, Were They Wrong!
Warning Signs.
Test Your Selling Style.
Conclusion.
CHAPTER 7 The Life of a Salesperson.
Long Lunch.
The 19.5 Reasons You Will Fail.
Keep Perspective.
Ask the Experts.
Why Does My Sales Manager Dislike Me?
Six Comments.
Self-Perception.
Freedom.
Sharpshooter.
Fatal Faux Pas..
Facing the End.
Keep Your Goals to Yourself.
Preconceived Ideas.
Hey, Hey, We're the Monkeys.
Monday-Morning Quarterbacks.
So You Want to Be a Manager.
Lost Cause.
Missing History.
You're Already Rich.
Final Advice.
Epilogue.
Notes.
Index.
About the Author.
See More
STEVE W. MARTIN is a successful speaker, consultant, and the creator of the Heavy Hitter Selling training program. Using the concepts of neurolinguistics, he has developed effective models that have helped thousands of salespeople become heavy hitter revenue producers. He is also the author of Heavy Hitter Selling, from Wiley.
See More